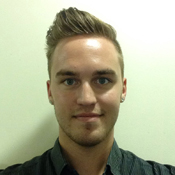 Steven Blake PJ Dip
Recruitment & Training Manager
Well, what a journey I have been on, to say the least! I started working for Beaverbrooks in 2007 at the age of 17. I joined part time whilst I was at college, with big plans to go on and study Law as a career. A year on, I had fallen for Beaverbrooks, and decided I wanted to pursue a career here instead, and I'm pleased to say it's the best thing I ever did! Six years on and I've worked in three different stores, taking up management positions, and now I support the South East region, overseeing Recruitment and Learning & Development.
My favourite part of working in the stores was definitely working so intimately with customers. We are very privileged to be invited into such special moments in people's lives, and as long as that excites you, you'll love the job you do here! In my current role, I love the variation I achieve through visiting all of the stores, welcoming new colleagues into the company at the Induction, and being able to share and pass on the passion I feel for our Customers and beautiful products.
Beaverbrooks will always provide a working environment that is challenging, commands responsibility from each of us, and supportive of the development of everyone, whether you want to build a career through management, or remain a successful team member for years to come.