How To Find
Your Ring Size
Buying an engagement ring or a wedding ring will be one of the most momentous purchases of your life, so it's important to make sure you find the perfect fit. This ring size guide offers helpful tips to finding your ring size with ease.
Popping into one of our stores and having your finger measured is the most accurate way to determine your ring size, but if you need to find out from the comfort of your own home, we're here to help with these handy tips.
Measurement Guide
Use this table of circumferences (mm) and a tape measure to find out your ring size.
Ring Size
Circumference (mm)
Ring Size
Circumference (mm)
Ring Size
Circumference (mm)
A
37.8
J
48.7
S
60.2
B
39.1
K
50.0
T
61.4
C
40.4
L
51.2
U
62.7
D
41.7
M
52.5
V
64.0
E
42.9
N
53.8
W
65.3
F
44.2
O
55.1
X
66.6
G
45.5
P
56.3
Y
67.8
H
46.8
Q
57.6
Z
68.5
I
48.0
R
58.9
| Ring Size | Circumference (mm) | Ring Size | Circumference (mm) |
| --- | --- | --- | --- |
| A | 37.8 | N | 53.8 |
| B | 39.1 | O | 55.1 |
| C | 40.4 | P | 56.3 |
| D | 41.7 | Q | 57.6 |
| E | 42.9 | R | 58.9 |
| F | 44.2 | S | 60.2 |
| G | 45.5 | T | 61.4 |
| H | 46.8 | U | 62.7 |
| I | 48.0 | V | 64.0 |
| J | 48.7 | W | 65.3 |
| K | 50.0 | X | 66.6 |
| L | 51.2 | Y | 67.8 |
| M | 52.5 | Z | 68.5 |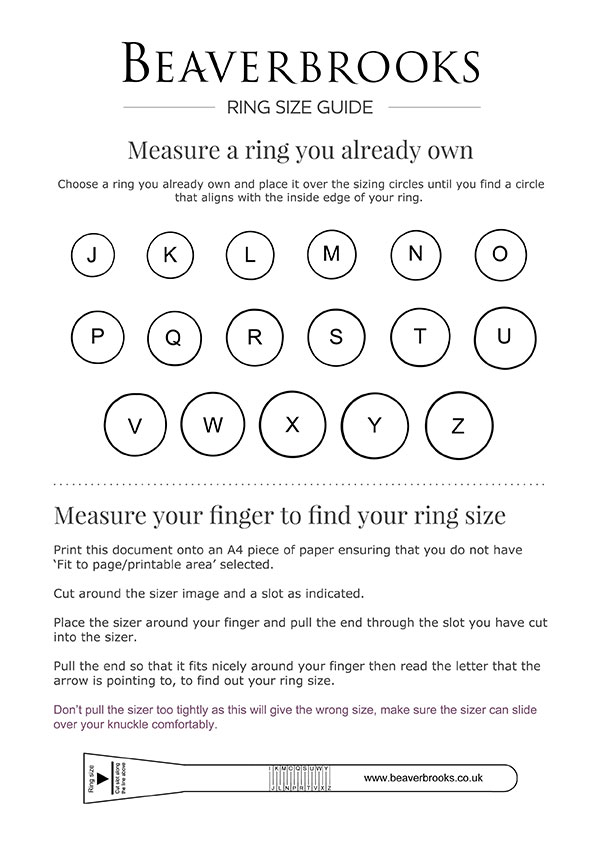 Download Our Ring Size Guide
Print out this simple and useful ring size guide and place a ring over the circles, matching the inner diameter to find your appropriate ring size. Our guide is perfect for when you want to surprise someone.
Please note that this is only a guide and will not take into account the style of ring. For example, if you are choosing a ring with a deep band width, you may need a larger size.
Download The ring size guide
How To Find Their Ring Size
Find Their Ring Size In Secret
For when you need to find out your loved one's ring size in top secret style, perhaps for a romantic proposal, these helpful tips will be your go-to guide. Here's how to make it the most unforgettable surprise of their life…
1.


Try On For Size

Take one of their rings and slide it onto your ring finger. Make a little mark with a pen where the ring goes up to on your finger and show this to one of our friendly experts in-store.
2.


Get Creative

Why not get creative and buy some Play-Doh. Gently press one of your loved one's rings into it and take into a Beaverbrooks store to have one of our experts check the size. Remember to clean the ring afterwards, and be careful not to get the playdough in the setting or the diamond.

FIND YOUR NEAREST STORE
3.


Tying The Knot

Wait until they're fast asleep and tie a piece of string around their finger and make a little knot. Just try your best not to wake them and you're all set.
4.


Tell A Fib

Just this once, tell a little white lie and pretend you're treating a family member to a ring they like. Take your loved one with you, then ask them to try it on in their size to 'see how it looks'. Just don't forget to listen out for their size.
5.


Something Borrowed

If you know your loved one won't miss a ring they wear often for one day, simply take it into a Beaverbrooks store to be sized and sneakily put it back before they have time to notice.
Ready To Shop Rings?
Whether you're looking for an engagement ring or a designer piece, explore our ring collection and find the one you love.
SHOP RINGS
Helpful Tips
When you're finding out your ring size, don't forget these useful tips.
1.
Avoid measuring for a ring when you're cold, as your fingers will be half a size smaller.
2.
The evening is the best time of day to measure your finger, as this is when they are at their largest.
3.
Measure your finger at least 3 times to ensure the correct size reading.
4.
Rings with wider bands will fit a bit tighter, so you may need to go up a size.
Still Unsure?
If you need any more help or assistance, please call into any of our Beaverbrooks stores or contact our Customer Services team who will be happy to advise you. We are also happy to offer a free 30-day returns policy for refunds and exchanges, in case you need to change your ring for another size or style providing that the ring is unworn.