How to clean, care
& service your watch
A highly technical instrument, a watch is designed to be worn every day meaning it needs the utmost care and attention. From how to clean a watch, to watch servicing, our guide has everything you need to know.
SHOP WATCHES
Waterproof

vs

water resistant

watch

What's the difference between a waterproof and water resistant watch? Well, water resistant means able to resist the penetration of water to some degree but not entirely. Waterproof means impervious to water.

In the watch world, water resistant and waterproof can cause some confusion. The term the watch industry usually uses when describing a watch's performance in water is 'water resistant', because no watch is completely 'waterproof'. There's always a limit to how much water pressure a watch can resist. However, some people may refer to a watch with extremely high water resistance levels as 'waterproof' – but these watches are still not absolutely waterproof.

The water resistance of your watch refers to the static pressure it can withstand, not the actual depth of water it can be used in. For example, 50m water resistance doesn't mean you can dive up to a depth of 50m. The 50m refers to the pressure it can experience if it was static at a depth of 50m, but as soon as you move the watch, the pressure rises. Therefore, a watch with a water resistance of 50m is actually only suitable for shallow swimming, not diving:
3 ATM / 30m: Splash proof and waterproof in small amounts of water
5 ATM / 50m: Can be submerged in water. Suitable for shallow swimming
10 ATM / 100m: Suitable for swimming, snorkelling and water sports
20 ATM / 200m: Ideal for scuba diving
30 ATM / 300m: and over: Professional and deep-sea
Top tips

for using your
watch in water:
1
To ensure and maintain water resistance, we recommend that you remove your watch before having a hot shower or using a sauna. Extreme heat could cause watch seals to expand and create openings for water droplets to get inside.
2
Watches designed for water activities should always have the crown pushed down or screwed in tightly before being exposed to water.
3
The water resistance of your watch may not be permanent as over time the seal may be affected by wear or accidental shock to the crown. We'd recommend you have the seals of your water resistant watch tested annually.
HOW TO CLEAN YOUR WATCH
Cleaning the
case
For water resistant watches, use a soft toothbrush and mild soapy water before rinsing with cold water and polishing with a soft dry cloth. Always rinse with warm tap water after immersing it in the sea or a pool, and if your watch has a rotating bezel, rotate the bezel gently while cleaning it to dislodge any debris like sand or salt. If your watch isn't water resistant, avoid exposing it to any type of moisture. Instead, simply wipe it with a soft dry cloth such as these Connoisseurs Jewellery Wipes.
STAINLESS STEEL

Stainless steel

watches

Use a soft toothbrush and mild soapy water to clean metal bracelets. Rinse with cold water and use a dry cloth to polish it.

Shop Bracelet Watches

BRONZE

Bronze

watches

When bronze comes into contact with oxygen, a chemical reaction occurs called 'oxidisation', which causes a thin layer of oxidised copper to form known as 'Patina'. This coating protects the underlying materials against corrosion and changes the colour of the bronze itself. It gives your watch its own individual character and uniqueness, which is pretty cool. Different brands have different cleaning tips:

Clean your watch with warm, soapy water and soft cloth to dry it with. TUDOR recommend to not use any cleaning agents.

Shop TUDOR

Oris recommend you don't remove the patina as it acts as a natural protective layer for bronze. However, if you discover unsightly marks, clean your watch carefully by mixing salt with a little vinegar and rubbing it in using a soft brush. Rinse carefully with water.

Shop ORIS

Shop Bronze Watches

CERAMIC

Ceramic

watches

Ceramic is extremely high scratch resistance, so your ceramic watch won't pick up small scratches and marks. However, ceramic is much less resistant to shattering so be careful not to drop your watch on a hard floor. To clean ceramic, a soft toothbrush and some warm, soapy water is all you need. Rinse with cold water and use a dry cloth to polish it.

Shop Ceramic Watches
How to clean
watch straps
Leather watch strap
For leather straps, avoid getting it regularly damp, exposing it to direct sunlight and contact with chemicals like perfumes, solvents, and detergents. It's a good idea to clean your leather strap after any form of activity, as dust, dirt and sweat can cause stains and odours.
Shop Leather Strap Watches
Rubber watch strap
Like leather straps, rubber straps shouldn't be exposed to chemicals like perfumes, cosmetics or oily products. As a lot of divers' watches use rubber straps, it's important to remember to clean the strap with warm water after wearing it in the sea to prevent the high salt content from damaging the strap.
Shop Rubber Strap Watches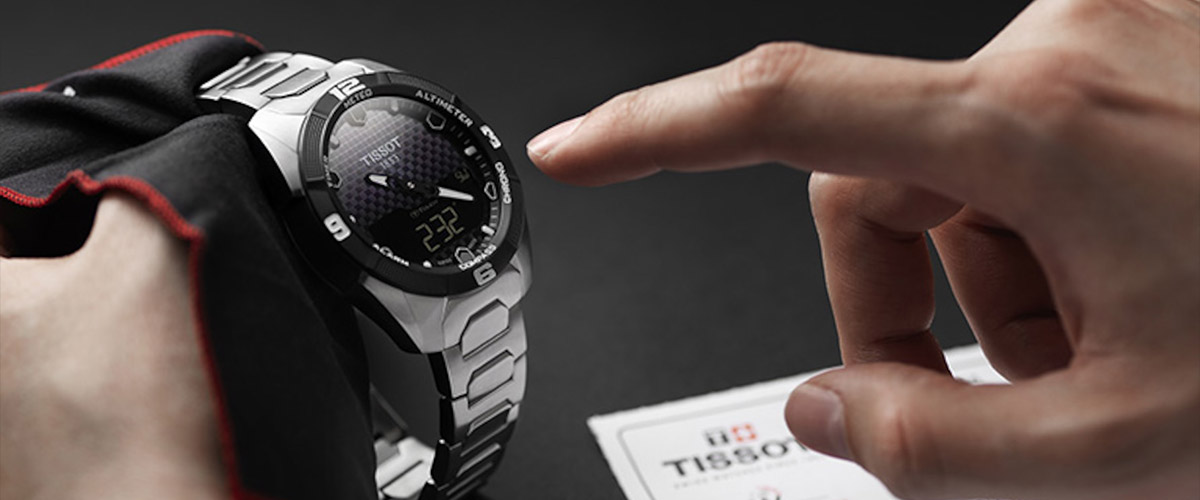 Professional polishing
Polishing your watch is slightly different to cleaning it. Cleaning removes dirt and grime, whilst polishing removes scratches and restores shine. If you'd like your watch polishing, we recommend you bring it into store and one of our experts can do it for you, or we can send it off to the brand.
Find Your Nearest Store
Helpful hint: if you need your watch strap altering, we'd recommend either using our watch strap size chart or bringing it into store where our experts can help.
View the Guide
WAYS TO STORE YOUR WATCH SAFELY
Storing

your watch

Another way to help increase the lifespan of your watch collection is to make sure you're storing them correctly. Leaving your watch on the side or in a draw can scratch it (amongst other things), so it's important it has a safe place for when you're not wearing it.
1
Prolonged exposure to sunlight
Keeping your watch in direct sunlight for a prolonged period of time can fade the colour on your watch, whilst the heat shortens the battery life.
2
Extreme temperatures
Exposing your watch to extreme temperatures can critically alter its performance. Avoid exposing your watch above 60c and below 0c.
3
Impacts & shocks
However robust you think your watch is, impacts and shocks to your watch could result in damage to the case, crystal, movement, and dial.
4
Chemicals
Avoid consistent contact with chemical products like solvents, detergents, perfumes, or cosmetics as this can damage the straps, case and gaskets. When spraying perfume or cologne, let it dry completely before placing the watch on your wrist.
5
Magnetic fields
Magnets can cause your watch to run slow, fast, or completely stop. Mechanical watches should not be exposed to anything containing a magnet. Objects that give off magnetic fields include computers, speakers, refrigerator hook magnets, smartphones and even the fastening clips on handbags.
Receive a
free

gift worth up to £349
when you purchase a luxury watch

Choose from a range of luxury free gifts, including a WOLF Watch Winder worth £349. T&Cs apply. T&Cs apply.

Find Out More Shop Luxury Watches
WATCH MOVEMENTS
Learning the watch
movements
QUARTZ

Quartz watches are powered by batteries which need changing over time. If you're wondering how long do watch batteries last, on average the life of a quartz watch battery is around two to three years. The more functions a watch has, the quicker the battery will run out. Some quartz watches are equipped with battery end of life indicators, where the second hand will commonly jump in five second intervals when the battery is running out.

Shop Quartz Watches

MECHANICAL

Wondering how does a mechanical watch work? Well, a manual mechanical movement is the oldest type of watch movement made and requires daily winding in order to work. Here's how:

Remove your watch from your wrist before winding.
Always wind your watch fully at the same each day, being careful not to force the crown.
It should be wound until you feel tension or tightness on the crown.
Stop winding as soon as you feel resistance, as forcing the crown can damage the mechanisms.

Shop Mechanical Watches

AUTOMATIC

An automatic movement was first introduced in the 20th century. It's powered by movement and therefore winds itself whilst worn on the wrist, so it doesn't need daily hand-winding. You can discover more about how to wind your automatic watch with our helpful guide.

Discover The Guide Shop Automatic Watches
Servicing

your watch
MAINTENANCE SERVICE

We recommend you have a maintenance service on your watch every 18 to 24 months, although this will depend on the brand, the watch model and your own personal use. Refer to your specific user guide to double check what timings you should be adhering to. This will help ensure its water resistance and accurate performance of the movement.

This service includes (although it might vary slightly by brand):

Rating/ regulation check
Replacing the crown, gaskets and battery for quartz movements
Water resistance control
Cleaning of the case and bracelet
Overall quality control check

COMPLETE OVERHAUL

A complete overhaul service on your watch is recommended every four to five years, although again the frequency we recommend will depend on the brand and your own personal use.

This service includes (although it might vary slightly by brand):

Dismantling the movement and cleaning, oiling, regulating, reassembling all of the parts and checking all of the functions
Repairing or replacing any worn movement parts
Replacing the crown, gaskets and battery for quartz movements
Water resistance control
Cleaning of the case and bracelet
Final quality control
WATCH FAQS
We
answer

your watch FAQs

From changing your watch battery to the most googled questions about luxury watches, discover the answers to everything you want to know.