Watch Size Guide
The watch case size and how your watch fits can make a big difference to its overall look and feel. Our helpful watch sizing guide shows how to measure your wrist size and tips for finding the perfect dial for you.
Free Watch Strap Adjustments
We want to ensure your watch fits perfectly, which is why we offer free watch resizing on some of our metal bracelet watches.
For online orders, we can adjust the bracelet on OMEGA, TAG Heuer, TUDOR and Breitling watches before we despatch to make sure it's the perfect fit.
We've listed the standard bracelet sizes for each brand below. Use our size guide to find your wrist size and enter it in during checkout.
If you can't find your wrist size in the options, please contact Customer Services on 0800 169 2329. Alternatively, you can select 'Do Not Size' and head to your nearest store to get it fitted.
| Brand | Gents (mm) | Ladies (mm) |
| --- | --- | --- |
| TAG Heuer | 190-200 | 170-180 |
| Omega | 200 | 160 |
| Breitling | 190-200 | 180 |
| Tudor | 190-200 | 170 |
How To Measure Your Wrist Size For A Watch
Our printable guide (actual size) shares seven steps for how to measure for a watch strap using your wrist size. But first, it's key to know that there are different types of straps and bracelets which require different methods of watch strap fitting:
Leather & Nato straps: Watches with a leather or nato strap come with punched holes, so you can adjust the size yourself.
Metal bracelets: According to a study by The Slender Wrist, the average male wrist size is 18.42cm or 184.2mm. For women, the average wrist size is in the region of between 150 – 160mm.
For an accurate measurement, it's best to use our watch strap size chart or visit your nearest Beaverbrooks store.
Follow these simple steps for how to measure your watch size:
1. Download and print off our wrist size chart on A4 paper and check with a ruler it's printed to scale
2. Cut around the sizer tool
3. Punch a hole through each marked X and cut along the dotted line between them to make a slit
4. Place the size guide around your wrist like a bracelet, and pull the pointed end through the slot
5. Make sure it has a snug fit with enough room to fit your index finger underneath
6. Find your millimeter measurement by reading where the arrow is pointing to
View The Bracelet Size Guide
Pop into your nearest store and we'll custom size your watch to ensure it's a perfect fit.

FIND YOUR NEAREST STORE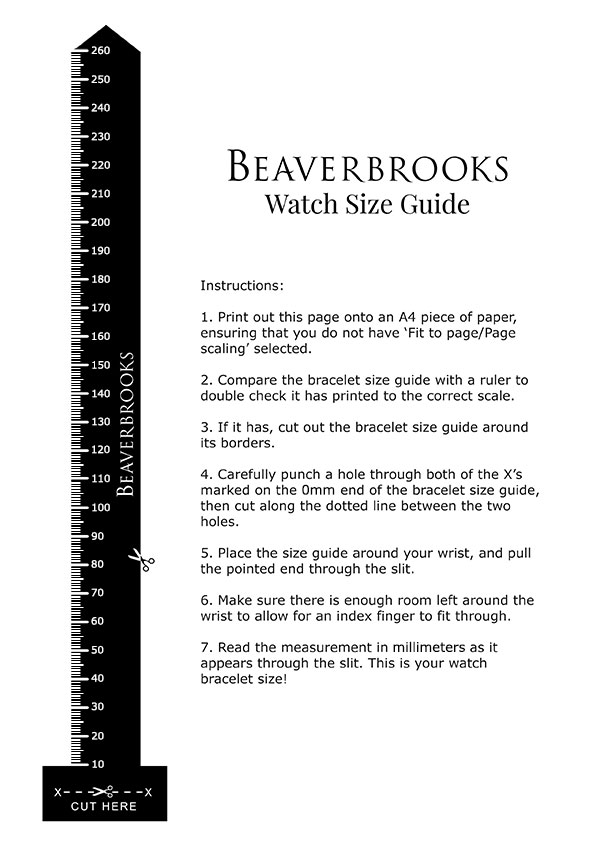 Watch Case Diameter Guide
How To Measure Watch Case Size
The watch case is the part of the watch that houses the dial, battery, movement and other working parts. It's the heart, soul and body of your timepiece, and is the part that gets most attention. So, it's good to buy the size that's right for you.
Tips on how to buy the right watch size:
If you're looking for an oversized look, watch case measurements 45mm and over will make a statement on the wrist. Medium or average watch dimensions are usually between 38mm and 42m, anything below 38mm is regarded as a small-face watch.
Use our guide and follow a few simple steps to find out how to measure a watch face and find a case size to suit you:
1. Download our chart featuring the most common watch face sizes
2. Print to scale using the pound coin guide as a reference
3. Cut around the watch with your desired case size
4. Place the watch on your wrist to find your favourite style
View The Case Size Guide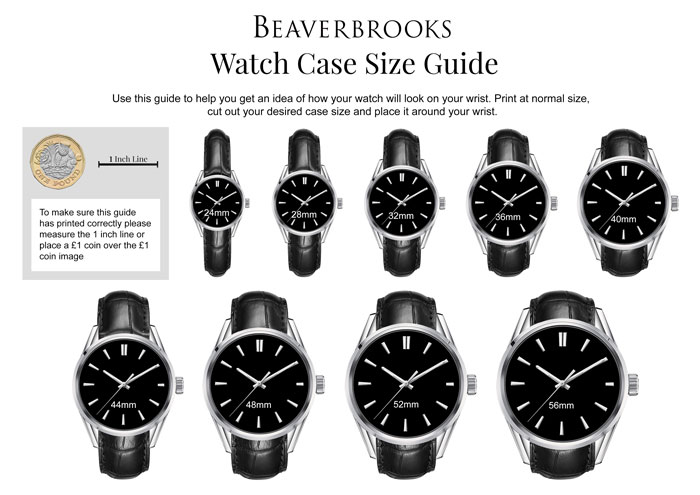 Watch Inspiration & Advice
More advice on finding the perfect watch
The ultimate symbol of style and sophistication, our collection of men's and ladies designer watch brands have been chosen to showcase innovative design, cutting-edge technology and the latest on-trend materials. Whatever style you choose, our collection of men's and ladies watches will do more than help you keep track of time.