Engagement Ring
Buying Guide
Choosing your engagement ring is all about the little details. At Beaverbrooks, we believe that you choose an engagement ring by falling in love with it, but by getting the little details right we know that you'll find the ring that you'll treasure for a lifetime.
Shop all Engagement Rings
Our 5 C's At A Glance
Every diamond is as unique as a snowflake and it's the cut, colour, clarity and carat that helps define every stone's true quality. We believe that you can either choose a diamond or you can fall in love with it, and that's exactly how we select the diamonds that become part of our engagement ring collections.
1. Cut
To release its inner beauty, a diamond must be cut in perfect proportions. A beautifully cut diamond will have lots of sparkle.
2. Colour
A diamond's rarity and purity is measured by its lack of colour. A pure stone will have a bright, white appearance.
3. Clarity
Most diamonds have inclusions. We select the best to ensure these unique markings will not be visible to the naked eye
4. Carat
Often confused as the size of a diamond, the carat is actually the measure of a diamond's weight.
5. Confidence
We don't just tick off the 4 Cs or adhere to a technical checklist. For us it's about genuine passion and care and about making sure your engagement ring sparkles.
"Choosing your engagement ring is the most important jewellery purchase that you'll make in your whole life. Our job is making sure that those diamond rings are perfect."
The Perfect Setting
Choosing Your Engagement
Ring Setting
The style of your engagement ring setting will probably have the biggest influence on its overall look, whether you're looking for glamour, timelessness or sophistication.
Which Diamond Shape Is For You?
Creating their own individual style and characteristic, the shape of your diamond can help you make your engagement ring uniquely yours.
How To Get The Engagement Ring Size Right
Getting the size of your engagement ring right is one of the factors that can cause the most stress, particularly if you're planning a surprise engagement. However, we'd encourage you not to get too worried about this detail. Depending upon the design of your engagement ring it might not always be possible to have it re-sized but, if it doesn't fit, you can return it to us unworn and we'll be happy to exchange it for her correct size.
Our top 3 tips for finding your ring size are:
1.
If you're starting the search yourself and just want to get an idea of your ring size, you could pop into any of our stores who will be happy to measure your finger for you.
2.
Perfect for couples choosing their engagement ring together, why not book an appointment in-store? You can also take some time to start exploring what engagement rings you like.
3.
Check out our Ring Size guide which features a table of ring sizes, a print-out ring size guide and some hints and tips on how to go about finding their ring size in secret.
Proposal Rings
It's the most important question you'll ever ask so, if the prospect of choosing an engagement ring for the love of your life is causing you to lose sleep, one of our new Proposal Rings could be the solution.
A beautiful collection of sterling silver cubic zirconia rings, you can pop the question with a Proposal Ring before choosing your diamond engagement ring together. We'll even deduct the price of your Proposal Ring from your Beaverbrooks Diamond Ring if you visit us within 60 days.
Shop All Proposals Rings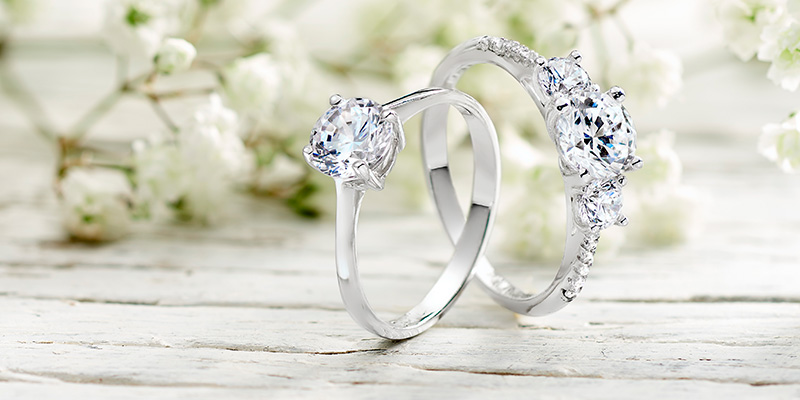 How To Prepare For Buying An Engagement Ring In Store
Of course this one applies more to those who want to buy a ring in secret. We'll ask you lots of questions, so it's a good idea to come prepared so that we can help you find the engagement ring of their dreams.
In addition to wanting to find out about your other half, questions we might ask you are:
- What do you already know about diamonds?
- What have you seen during your research?
- What precious metals are you considering?
- What jewellery does your partner tend to wear?
- What style do you prefer?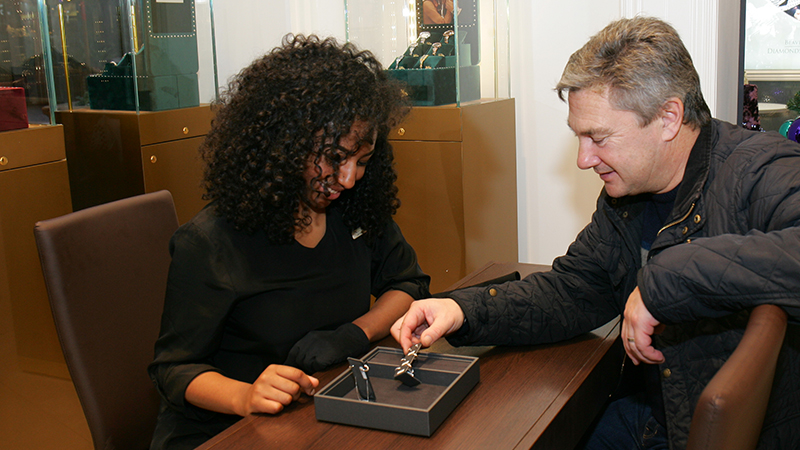 Book An Appointment
Booking an appointment in store is a great way to make choosing the perfect engagement ring as stress-free as possible. You can book an appointment at a time that will suit you and you can really take your time to find exactly what you want.
Book An Appointment