Beaverbrooks Careers
Join Our Team | Rushden Lakes
We're now recruiting full and part time Sales Consultant positions for our brand new Beaverbrooks store in Rushden Lakes, Northamptonshire. Set beside 200 acres of the protected Nene Wetlands nature reserve, we're so excited to be opening our brand new store here this summer.
If you're passionate about retail, jewellery and watches, we really look forward to hearing from you soon.

Why Work For Beaverbrooks
We believe in investing in development and happiness at work, and have a good range of benefits for our people. These include opportunities to attain nationally recognised business related qualifications, ongoing training programmes and career development opportunities.
We also run regular staff events and occasions, offer outstanding staff discounts and have exclusively designed corporate clothing. Other fantastic benefits include contributory pension and life assurance cover, a healthcare scheme and also private healthcare for anyone in a management position. There is also employee and family support and counselling available, an enhanced maternity package, a maternity return to work bonus and employee childcare vouchers. If you love doing your bit for charity, we have a charity matching scheme too, so if you raise it, we match it!
Training & Development
No-one likes being new, but there's no reason for your first day with us to feel like your first day at school. We'll help you settle in, and will make sure that you feel like one of the team from the start.
We take our commitment to your development seriously, because we want you to be happy and fulfilled at work, and to achieve your potential. Whilst a lot of your training will be on-the-job, we also offer everyone the chance to improve on the skills you need to be even better at what you do. We run several courses that we believe enhances the knowledge and behaviours you'll need, and also encourage everyone to request specific training if you feel it would be of benefit.
To help you get to know us, all of our new starters attend a three day structured Induction Training Programme at one of our regional training centres. During these three days we'll give you all the info you need to develop great customer care skills, selling skills, fantastic product knowledge, and the confidence to be the best you can be. You'll find out about the company, see where your role fits and generally be fully immersed into the world of Beaverbrooks. You'll then be given ongoing training and support over your twelve month transition period.
Jewellers Diploma - JET Certificate & JET 2
+
There is the opportunity available for all of our people to complete the Jewellers Diploma JET Certificate qualification which is a nationally recognised award. This is an online programme completed over a period of six months, which is designed to provide first-class product knowledge and a wide ranging understanding of the trade.
Your diploma doesn't stop there and for those hungry for further knowledge and development, there is also the opportunity to do further study for the JET 2 qualification too. JET 2 takes a more in-depth look at the subjects covered in JET Certificate such as security, hallmarks and gemstones (including diamond treatments and stimulants). Other subjects include the history of jewellery, modern designers, display, principles of valuations, service & repairs department, consumer law and consumer confidence.
Once successful you will be awarded the coveted Professional Jewellers' Diploma and will be entitled to use the status of PJDip.
Management Development Programme
+
We are very proud of our commitment to promoting from within Beaverbrooks, and feel that it is vital to our mission to enrich people's lives. The Management development Programme is available to everyone and, through a programme of home study, accelerated learning and individual coaching, you will be enable to achieve promotion to Assistant Branch Manager and onwards to Branch Manager.
Interview Process
As a family business, we've been selling jewellery and watches for 100 years. Over that time we've found that people who do really well with Beaverbrooks tend to have particular qualities and strengths in certain areas. We want you to show us you've got what it takes, so this is what we're looking for.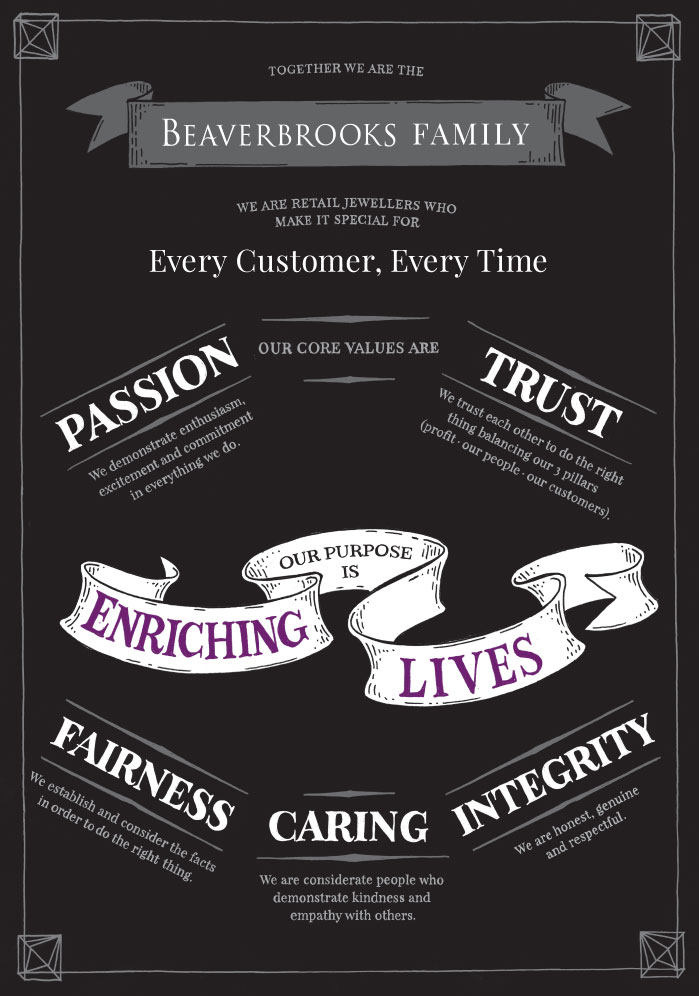 Culture and Vision
Someone who can demonstrate integrity and positivity for our vision. Who can live our mission to enrich people's lives, and has a passion for jewellery and watches. We have a pioneering culture at Beaverbrooks, and we look for people who can embrace change, and look for new and different ways to do what we do better.
Download the pdf
Teamwork
We are a family business, and we achieve our goals though teamwork and by treating people right. We look for people who will support each other to improve and develop. People who will be a positive influence, and who will both give and receive feedback that is open, honest and constructive.
Communication
We want people who can build rapport with customers, who can communicate clearly and confidently and listen to what is required. We want a professional, happy team with integrity and a passion for our products, who can articulate new ideas and will listen to different viewpoints.
Customers Come First
You'll have a proven track record of exceeding customer's expectations and going the extra mile. We want for people who consistently deliver outstanding results, who understand customer's needs and build genuine relationships.
Drive and Resilience
It's about positive change and being tenacious and determined in the face of obstacles and resistance. It's about setting high expectations for yourself and your team-mates, and ultimately exceeding them. We want to constantly improve what we do, and so will you.
If your application is successful, we will then invite you along to meet with us. Here is an idea of what you can expect at each stage:
3 rounds of interviews

Round 1
At the first stage, you will meet the person who will be your line manager. This will either be a 1-2-1 chat or a group interview. We'll want to find out more about you, who you are and why you want to work for Beaverbrooks. This is your chance to demonstrate why you're great, and why you'd be a perfect fit for the team.

Round 2
At the second stage, you'll meet with one of our Recruitment and Training Managers. They'll want to hear all about your relevant experience, and whether you have the skills to excel in the role you're applying for. It's a good idea to read through the job description and have an idea of examples you can give that will support each requirement, and will demonstrate your skills and experience.

Round 3
The final stage is an on-the-job experience. Here you'll spend a couple of hours with us in the store. It's a great way for us to see how well you interact with customers and the team. Don't forget that the interview is a TWO way process. This is your chance to see what it's like to work for us, and will give you a chance to meet some more of your potential colleagues.
Our dress code is smart. Your appearance not only shows that you're taking the opportunity seriously but also that you are eager to make a good impression.
Clear, concise answers are always best.
Know WHY you want to work for us, and know a little about our business.
Good preparation is the key to success. It will also calm your nerves.
Prepare a few questions, and not just questions that you think we want to hear. Don't forget that it's a two way process.
We're just normal people who have been to lots of interviews too. Don't get stressed, we won't bite!
For us, interviewing is about letting you show us your best side. We won't ask you trick questions, or try to trip you up.
Arrive on time or five minutes early. Don't be late!
Jot down our address so you don't get lost, and have our contact number handy in case you do.
Remember who to ask for when you arrive.
Relax, take a deep breath and just be yourself.
Our Testimonials
We've asked some of our team to tell their stories so you can see what our employess have to say too.