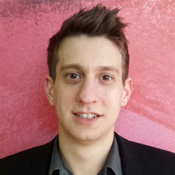 Ned Giongo PJ Dip
Branch Manager
After being made redundant from my previous employer, I walked past Beaverbrooks in Exeter, saw the recruitment sign and was drawn in by the benefits that working for Beaverbrooks entitles you to. I got the job and started in 2009 as a Sales Consultant, eager to impress and work my way up through the company.
In the early days, I learnt so much from my Manager and team mates which helped me grow into the person I am today. I have held every role in Exeter branch and with the support of the company have earned JET 1 and 2 qualifications, completed the Management Development Programme and went on to become Store Manager in June 2014.
It's now my duty and honour to help the people around me grow and excel in their roles. Together we collaborate to ensure the success of our business. Our first priority is the people who allow us to be part of their buying journey - we pride ourselves on making every single customer feel amazing every time they shop with us.
We work as a team to achieve our goals and support each other with regular coaching discussions. We all work within the Beaverbrooks Way, a mission statement that gives us all clear guidance and the freedom to make decisions using our judgement.