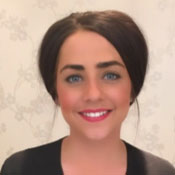 Katie Bell PJ Dip
Sales Consultant
I have worked for Beaverbrooks since August 2010, and I can honestly say that in this time I have developed both personally and professionally due to the support and trust of my team, my management and our company. As a family run business, the core values of Beaverbrooks are not just a statement but something we all live and breathe each day.
I have always had a passion for watches, and so when a position become available at Beaverbrooks felt like a perfect opportunity to progress in my career.
After completing an induction period and gaining a wealth of product knowledge and many other skills, I then went on to complete a Professional Jewellers Diploma.
I have been fortunate to share special interactions with customers, from engagements and weddings to christenings and birthdays. It really is a privilege to share these memories and create an experience for such special times in people's lives.
The opportunity to progress from sales into management will of course be challenging but with passion and determination and the support of all my colleagues this is something I am determined to do. Not everyone can say they love their job and let's face it, what a lovely environment to work in!
If you are passionate about jewellery and watches - but most of all love going above and beyond to give people an amazing experience - then Beaverbrooks is certainly the career for you!