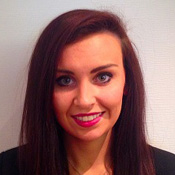 Fiona Campbell PJ Dip
Branch Manager
I joined Beaverbrooks in 2013 and was made manager of Kinnaird branch in 2015... What a journey it's been!
I was recruited externally as a Supervisor for our Braehead store in August 2013 which was a little different for Beaverbrooks as the development and growth of our current team members is very important. I joined the Beaverbrooks Family and began a tailor-made Management Induction Schedule covering Selling, Product knowledge, Visual image, Induction to our office with
Department Managers and Supervisor and Management skills - in which regular meetings were had to allow coaching and feedback to support my progression. A review was completed at the end of this period where I was encouraged to give my own feedback on what we could do even better as a company for future employees.
After completion of my six month transition period, I was given the fantastic opportunity to become Assistant Branch Manager in training in the Gyle branch, Edinburgh. I began my JET qualification and was enrolled in our Management Development Programme (MDP), a course that provides our people with the tools for developing our skills to becoming successful branch managers (something which I had strived to be part of since my first inspiring week in the company). After completing the MDP I applied for the manager's position that became available in Kinnaird and was successful.
Working for Beaverbrooks is a very rewarding job. You must be accountable for your performance, personal development and behaviour whilst being a role model; have open and honest conversations and be action orientated. This allows us to celebrate successes when we recognise what's working well and change what's not. We work hard, but I absolutely enjoy what I do.
I feel absolutely privileged to work for a company that genuinely takes pride in enriching the lives of their people and strives to be even better on a daily basis.