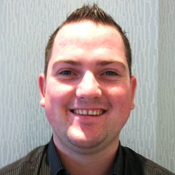 Andy James PJ Dip
Branch Manager
I stumbled across Beaverbrooks in Merry Hill for the first time whilst I was at University, in July 2008 and noticed they were recruiting for a retail sales consultant. After my informal chat and initial application I knew this was the place I wanted to work and form a career. The Beaverbrooks Way had just been launched and I could see a great match with every behaviour and value. I quickly fell in love with the company.
I won top performer for the store in 2009 and quickly decided that I wanted to persue a management career within the company. I was selected for the management development program the following year and was then promoted to assistant manager in our Peterborough store within 9 months. This gave me a real insight into how the management aspects of our business works and how we put our customers first, but also a fantastic opportunity to move away from friends and family and experience the 'real world'.
In June 2011 I was offered a great opportunity and became assistant manager of our Oxford store; however I was only there for 4 months before moving back, closer to home, to become the branch manager of Solihull. I get so much satisfaction from my role as a branch manager, with the autonomy to run the store as if it was my own, developing my team and making a great success of our business.
Throughout my Beaverbrooks career I have been lucky to work with some great people, striving to make each day better than the last and developing my skills. Pop in to the Solihull store for any advice or a chat about what it is like to work for such a fantastic company, I will be more than happy to help. If you truly believe in putting customers first and creating great experiences then this is the company for you.
Back to careers