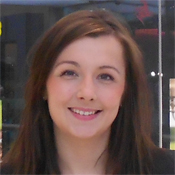 Stephanie Meredith PJ Dip
Assistant Branch Manager
I have worked within retail since 2005 and can honestly say that I have never worked for a company like Beaverbrooks. If you're caring, have Integrity, Passion and want your employer to have the same values then working for Beaverbrooks may be the perfect career for you.
My first experience with Beaverbrooks was just after Christmas. At the time I was working for a mobile phone company. My boyfriend had bought me the most amazing Michael Kors watch for Christmas and I wanted to have it adjusted to fit my wrist. I honestly expected to be last priority in the shop because I wasn't buying anything but I was wrong – even though it was so busy the service I received was so friendly and helpful and I was treated like any other customer in the store.
The experience I had received prompted me to have a look on the website to see if there were any vacancies within the store, and there were. I applied and was successful. It was the best thing I have ever done. Since then I have completed a national jewellery diploma winning an award from an outside company, been promoted to Assistant Manager and been accepted onto the management programme. None of this would have been possible without the great teams, training and opportunities within our company. The best thing about my career is the fact that I enjoy going to work, and work with some of the nicest people in life.