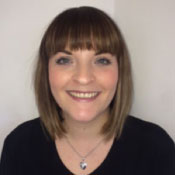 Sam Howie PJ Dip
Branch Manager
Being a branch Manager with Beaverbrooks is challenging, exciting and stimulating - I love it! I feel so lucky to work for a great company and a great team in-store.
My daily role varies so much, from supporting and training my team through to helping our customers buy the perfect piece of jewellery. It keeps me on my toes and I never lose interest in the job I do. Beaverbrooks has a strong core purpose and strong values similar to my own, which is one of the reasons I've been here for many years.
My career began 16 years ago in our Metro Centre store, where I began as part time Sales Consultant whilst studying at school. After 12 months, I was promoted to full time Supervisor in the store and at the same time embarked on the company's Management Development Programme which would prepare me for my next steps into my management career. After being a Supervisor for a year, I was promoted to the Assistant Branch Manager of our Gyle store in Edinburgh and I made the move to Scotland to further my career. I was then promoted to Branch Manager of our East Kilbride store after 18 months in Gyle, have since managed our Silverburn store and I'm currently the Branch Manager of our store in Glasgow Fort. This has presented a new challenge for me as I now manage my career along with being a mummy to my little girl. I love the way I'm supported to be able to do this by my team and Beaverbrooks - I count myself very lucky.
If you want a long term career that will challenge, excite and stimulate you, take you anywhere in the country and support you working whilst raising your children, then Beaverbrooks is the place for you!