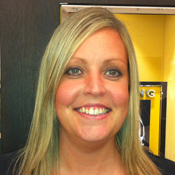 Natalie James PJ Dip
Branch Manager
I graduated from University in 2001 and was looking for a job and future career path. I noticed Beaverbrooks had a Management Development Programme which interested me so I applied, and this is where my journey began.
I started in September 2001 at our Solihull branch and became Supervisor and accepted onto the Management Development Programme early 2002. This was the start of my management career, and went onto Assistant Manager in Sutton Coldfield and Manager, and then manager in Hanley and onto my current role of manager in Merryhill.
I've enjoyed every minute of working at Beaverbrooks; it has been hard work, a lot of dedication, coupled with a large amount of responsibility and accountability. This in turn is rewarding as I am working for such a fantastic employer who genuinely cares about their teams and customers alike.
Everyday is different, meeting fantastic customers and being part of their journey and memories is extremely rewarding, not to mention working and selling such beautiful products – we are very lucky!
One of our main roles is to coach to develop each other and the business, daily, as we always strive to be better. This can be challenging but also the most rewarding and enjoyable part of my job. Seeing people grow, develop, continually improving the service and the business to see a happy team and happy smiling customers is my ultimate drive and what I love so much about working here.
Growing the business, analysing all areas, seeing the impact these ideas and actions have on customers' experiences and our success are all elements that inspired me to start a journey in management at Beaverbrooks. Thinking in a non conventional way to continually challenge myself, my team and our company are welcomed traits and ones that I look forward to portraying more in the future.
I am excited to meet new individuals that are keen to push boundaries and start their own Beaverbrooks career.