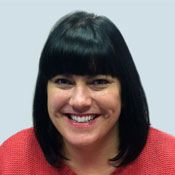 Kim Hughes PJ Dip
Special Orders
I have worked at Beaverbrooks for since 2000 in a number of different departments including the Repair department, Customer Services and now as assistant manager in the Specials department & I can't see myself ever working anywhere else!
A lot has changed in the time have been here and our culture continues to constantly evolve bringing new and exciting ways in which we can provide an even better service to our Customers. Our Customers are at the heart of everything we do and it is so refreshing to work in a company where I have the autonomy, responsibility and am trusted to do the right thing.
As a family owned company there is a genuine sense of caring and teamwork. The amazing training and development I have been lucky enough to be part of over the years has allowed me to not only develop my role but has massively enriched my personal life.
Like anything worthwhile, a career here is not easy but it is massively rewarding to work in such a fast paced, collaborative, dynamic, creative and exciting environment with amazing like-minded people.
The best part is regardless of your role you have the opportunity to make whatever you want of your career here - you are the driver and there is not limit to what you can achieve.