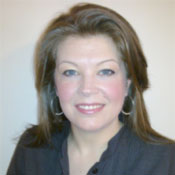 Angela Bernard PJ Dip
Branch Manager
I joined Beaverbrooks in May 1994 at just 18 years old. Retail was not my career plan at the time, but I happened to see an advert for Sales Consultant at the Stockport Branch in my local paper. This really stood out at me, as I had my ears pierced at this store when I was 14 years old! I had an experience unlike any other and I was made to feel very special. Since then, I was always attracted to see what Beaverbrooks had in the windows and to look around the store. I think this is why the job advert caught my attention and made me detour in my future career plan.
I started at the Beaverbrooks store and was quickly blown away by the fast-paced nature of the store – not to mention the fun we had. I love the variety and technical nature of our products, and when you combine this with the emotions and importance attached to them it's clear to see there really is no other industry like this. We are also given freedom to do the right thing for our customers and we genuinely care about all our people, whether its customers, colleagues, suppliers or the community.
Over 20 years down the line, I am still in love with Beaverbrooks and the jewellery trade - and I still feel excited to be learning. Some highlights of my career with Beaverbrooks include achieving a Retail Jewellers Diploma with Distinction, becoming a Store Manager by the age of 22, helping others see their potential and progress their career, completing the Beaverbrooks 10k Fun Run in under an hour and managing to juggle a demanding retail management role in a busy city centre store whilst being a wife and a mother to a six year old girl. The shift patterns are great for a working mum and I am overwhelmed at the support I've been given.
The thing I love the most about working at Beaverbrooks is the credibility, from the fantastic quality of our products to the credibility of our reputation, history and how we care for each other. This has never changed, and in fact has only become stronger over recent years. I would fully recommend a career at Beaverbrooks, and I feel very blessed to have been here such a long time.
Back to careers