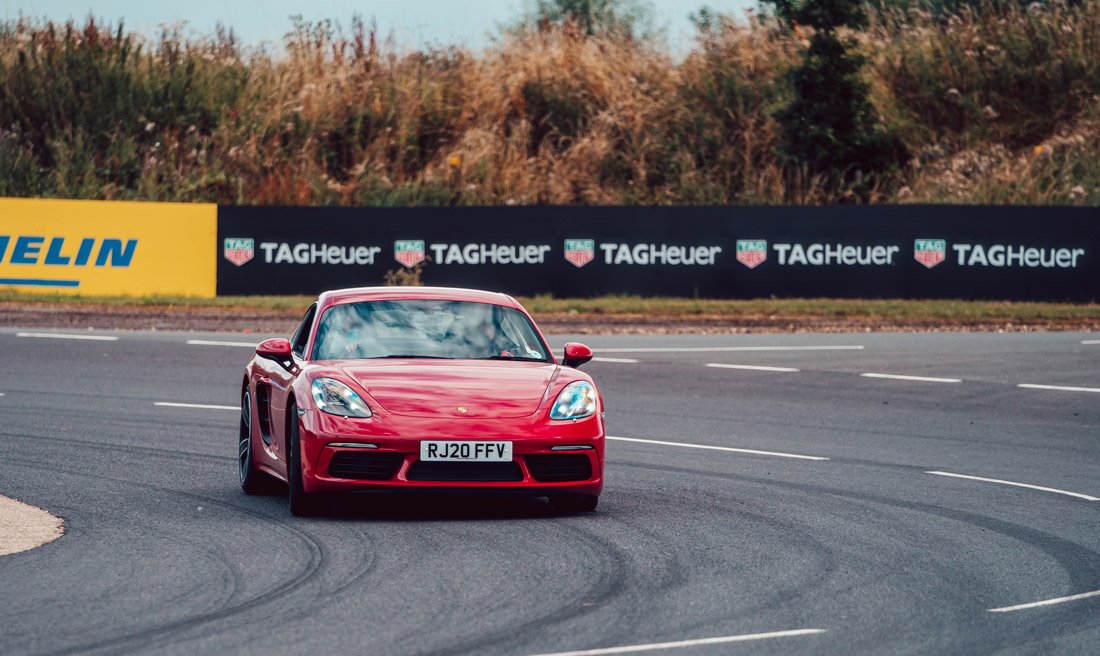 Prize details
The driving experience will take place on Saturday 22nd January 2022 at the Porsche Experience Centre
An exciting opportunity to drive the Porsche 718 Boxster, 718 Cayman or the 911 Carrera around the Porsche Track within Silverstone Circuit
Tailored one-to-one coaching from your own Porsche Driving Consultant
Six winners for online & store purchases, six winners for TAG Heuer Boutique purchases
Terms and Conditions +
Purchase any TAG Heuer watch online from Beaverbrooks (http://www.beaverbrooks.co.uk/) for your chance to win a Porsche driving experience with TAG Heuer, at the Porsche Experience Centre at Silverstone.
By entering this prize draw you are deemed to have accepted these terms and conditions ("T&Cs"). The details of the prize draw form a part of these terms and conditions. You should print and retain a copy of these T&Cs for reference.
To enter the prize draw you must have purchased a full-price TAG Heuer watch between 14:00 GMT Wednesday 10th November 2021 and 20:00 GMT Thursday 23rd December 2021 from https://www.beaverbrooks.co.uk/, any Beaverbrooks store nationwide and TAG Heuer Franchised Boutiques (Bluewater, Leeds, Leicester, Norwich, Milton Keynes, Metro).
The promotion is open to UK residents only aged 18 years of age or over and must have a full UK Driving Licence in order to be eligible for claiming this Prize. When purchasing online from Beaverbrooks you will automatically be entered into the prize draw. Orders returned before the closing date will be removed from the draw.
Beaverbrooks will make reasonable efforts to contact the winner via the contact details provided at point of purchase online. Beaverbrooks are not responsible for details provided incorrectly. Contact will be made within 3 working days of the promotion ending. If having made those efforts it is not possible to contact the winner, Beaverbrooks reserve the right to offer the prize to the next valid entrant drawn at random. There will be 12 winners in total across Beaverbrooks stores and Beaverbrooks TAG Heuer boutiques. The winners will be allocated 1 ticket each for a Porsche driving experience day at the Porsche Experience Centre in Silverstone. Travel to and from the driving centre is not included in the Prize. All tickets and passes provided will be at the discretion of TAG Heuer and are subject to change.
The winners will be picked at random by an independent adjudicator from all of the valid entries received before the Closing Date.
Beaverbrooks does not accept responsibility for any error, omission, interruption, deletion, defect, delay in operation or transmission, communications line failure, theft, destruction, alteration of, or unauthorised access to entries, or entries lost or delayed whether or not arising during operation or transmission as a result of server functions, virus, bugs or other causes outside its control.
Any personal data relating to entrants will be used solely in accordance with current UK data protection legislation and will not be disclosed to any third party without the entrant's prior consent other than as indicated by these Terms and Conditions.
Your details will be used only in relation to the administration of this competition and the delivery of the prize.
The prize is exclusively as stated. The Prize must be taken as stated and unless otherwise specified cannot be deferred, refunded, or transferred and no cash or other alternatives will be offered. If a Prize is no longer available due to circumstances beyond Beaverbrooks' control, a prize which in Beaverbrooks sole discretion is of equal or greater value will be provided. The Prize is only Redeemable by the named winner. It must not be sold on.
Each winner agrees to comply with the terms and conditions applicable to the issue and use of tickets from time to time and all applicable regulations relating to access to the Porsche Experience Centre.
Other than as set out in the Terms and Conditions of Entry, you may not transfer or sell Tickets to anybody. The unauthorised sale or disposal of tickets is a criminal offence under section 166 of the Criminal Justice and Public Order Act 1994, as amended by the Violent Crime Reduction Act 2006.
The Tickets shall remain at all times the property of TAG Heuer.
If the Tickets are obtained or used in breach of the Terms and Conditions of Entry, they will be automatically void and will have the right to refuse entry to the bearer or, if already in the Porsche Experience Centre, to eject the bearer, in either case without refund.
Beaverbrooks and TAG Heuer reserve the right to withdraw, change or cancel the promotion at any time. Beaverbrooks' and TAG Heuer's decision in all matters will be final, and no correspondence will be entered into.
In consideration of being awarded the Prize the winner may be required by Beaverbrooks to take part in publicity related to the subject of the promotion and confirm that they will take part in such publicity. Such publicity may include, without limitation, use of the entrant's name, photograph (which they will provide on request) and statements made by the entrant concerning the promotion and/or prize.
In circumstances within which TAG Heuer is procuring the Prize rather than providing the Prize itself, TAG Heuer shall not be liable for any act or omission of the Prize providers, and you now agree not to hold TAG Heuer at fault for any fault of the Prize provider.
Limitations of liability: Insofar as permitted by law, neither TAG Heuer, its agents or anyone professionally connected to the Promotion, assume any responsibility or liability for:

a. Communications line failure, regardless of cause, with regards to any equipment, systems, networks, lines, satellites, servers, computers or providers utilised in any aspect of this promotion;
b. Inaccessibility or unavailability of the internet or the website or any combination thereof; and,
c. Any injury or damage to participants upon delivery of and/or use of their prize.