Jewellery Cleaning
Our innate passion for jewellery and diamonds is at the heart of everything we do. That's why we believe your jewellery should always shine and leave a lasting impression wherever you go. Designed to stand the test of time, our collections of meticulously selected and expertly crafted pieces can be treasured forever with our cleaning recommendations.
Why you should care for your jewellery
To keep your jewellery in pristine condition, it's important to clean it periodically. With professional expertise in every store, we can share our expert knowledge to ensure your jewellery looks nothing less than stunning all year round.
Getting your jewellery professionally cleaned once a year is a perfect way to keep it looking its best and to check there is no damage the untrained eye might miss. However, in between these annual check-ups, it is also possible to clean your jewellery at home and get the same high quality results with our top tips.
---
Connoisseurs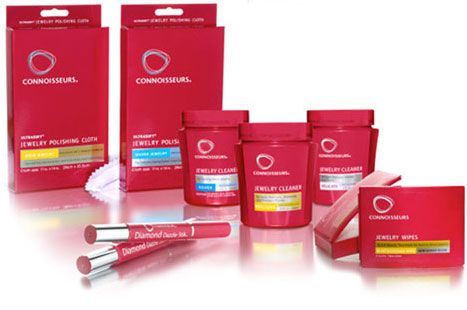 Known for their product innovation, Connoisseurs have been developing beauty treatments for your jewellery for over 40 years. Their products are specially formulated to safely clean all types of jewellery to help revive and maintain its natural beauty and sparkle, all from the comfort of your own home. From Connoisseurs Jewellery Beauty Wipes and Connoisseurs Ultrasoft Jewellery Polishing Cloths to Connoisseurs Delicate Jewellery Cleaner, Connoisseurs Diamond Dazzle Stik and everything in between, we stock a wide range of Connoisseurs products for gold, silver and diamonds to help enhance your jewellery with effortless ease.
SHOP CONNOISSEURS
---
Beaverbrooks cleaning products
Alongside Connoisseurs, we also offer a varied range of Beaverbrooks cleaning products to keep your jewellery shining. Our reputation for exceptional quality and exacting standards is reflected in these high quality products, the perfect way to care for your jewellery at home. Featuring Sonic Cleaner Solutions and Professional Jewellers Cleaning Cloths as well as Jewellery Cleaner for gold and silver items, these products are the perfect way to revive your jewellery and keep it deservedly dazzling.
SHOP CLEANING PRODUCTS
---
Our top tips for cleaning your jewellery
Be confident in your home cleaning techniques with our top tips for keeping jewellery pristine. With so many different cleaning products out there, it is important to make sure you are caring for your much-loved pieces with the correct products, solutions and techniques.
Gold, platinum, palladium, silver, titanium, diamond and gemstone
Wash your jewellery in a mild solution of soap and water
Use a very soft bristled brush to gently scrub your jewellery
Rinse well with clean water
Dry using a soft, lint-free cloth that won't leave fuzz or threads behind
Pearls
Chemical solutions should never be used on pearls
Wipe them occasionally with a clean soft cloth or cotton wool and a little cool water
Dry them carefully
SHOP ALL CLEANING PRODUCTS
To further enhance your jewellery, we have recommended speciality cleaning products and top tips for your specific piece of jewellery to ensure you are getting the most sparkle out of your treasured items.