Beaverbrooks the Jewellers
Ethical Policy
We are committed to enriching lives
As a family owned and independent retailer since 1919, it has always been extremely important to us that we carry out our work with the core purpose to enrich lives - meaning we make a positive difference to the world we live in, our colleagues, our customers, our suppliers and the wider community.
At Beaverbrooks, its more than a policy – it's a way of life. We care about doing the right thing and treating people right, which is why we were among the early adopters of all ethical policies within the jewellery trade. It's also why we focus on creating a great workplace where everyone can thrive and enjoy what they do, because, as a people-centred business, our people are fundamental to our success.
With over 70 stores in the UK and over 900 employees, our commitment to continually developing our working environment is highlighted by our inclusion in the Sunday Times Best Companies list for the last 14 years.
We are committed to enriching lives by promoting responsible, ethical, human rights, social and environmental practices throughout our business, our employees and our business partners, which include the complete supply chain for all products.
We comply with UK legislation, and fully support the sentiments and applicable codes of practice relating to the National Association of Jewellers, Responsible Jewellery Council, the Kimberley Process, No Dirty Gold Campaign and our own behaviours as set out in The Beaverbrooks Way. Read more about each of these below.
The Beaverbrooks Way'
As a family business with a strong people-focused culture, the Beaverbrooks Way was first established in 1997 to articulate our values to ensure alignment throughout the business.
Today, the Beaverbrooks Way sets out our five core values; passion, trust, fairness, caring and integrity, by which all decisions are made and everyone in the business works within. It also states and reinforces our core purpose of enriching lives, emphasizing our focus on creating a great workplace to ensure our people thrive, succeed and enjoy what they do.
Download the pdf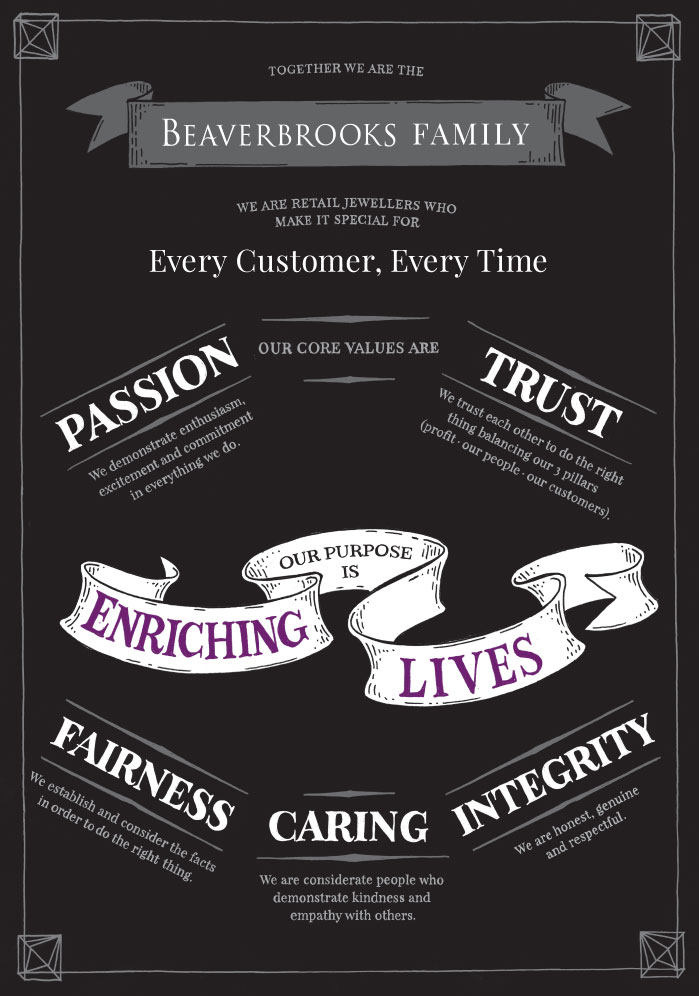 National Association of Jewellers
As a member of the National Association of Jewellers (NAJ), the trade body governing the jewellery industry, we meet the highest standards of professionalism, honesty and ethical business practices.
Founded in 2015, the NAJ was formed through the unification of the British Jewellers' Association (BJA) and the National Association of Goldsmiths (NAG), to lead, serve and represent the jewellery industry. It provides a unified voice for the industry and creates increased confidence in customers when purchasing jewellery.
For more information on the National Association of Jewellers, visit http://www.naj.co.uk/.
Responsible Jewellery Council
As well as enriching our customers and employees lives, we are also committed to enriching the lives of the people we do business with.
We joined the Responsible Jewellery Council in 2009, as we want to feel confident that standards of human rights and environmental impact are being upheld across our supply chain, as well as giving our customers confidence in the integrity of the products they buy from us.
The Responsible Jewellery Council is a not-for-profit standards setting and certification organisation
More than 440 member companies spanning the jewellery supply chain from mine to retail
We commit to and are independently audited against the RJC Code of Practices, which is an international standard imposing responsible business practices for diamonds, gold and platinum gold group metals
The RJC Code of Practices also addresses human rights, labour rights, environmental impact, mining practices and product disclosure
By continuing our membership of the RJC, we feel confident we are conducting business in a way which aligns with our key principles and that we are helping to improve the wider community.
Modern Slavery Act
Modern slavery is a heinous crime and a morally reprehensible act that deprives a person's liberty and dignity for another person's gain. It affects millions of people around the world, including many in developed countries, who are being kept and exploited in various forms of slavery.
Download The Full Statement - 310.3KB
The No Dirty Gold Campaign
No Dirty Gold is an international campaign working to ensure that gold mining operations respect human rights and the environment. It calls upon the mining industry to ensure that their gold was not produced at the expense of communities, workers and the environment.
At Beaverbrooks, we are confident that all our jewellery is 'clean'.
We support any changes that will improve human rights and the environmental conditions in gold mining areas
We joined the Responsible Jewellery Council in 2009 and made all of our suppliers aware of the No Dirty Gold campaign
We have received written confirmation from all of our suppliers that none of our jewellery is produced at the expense of communities or environments
We have ensured all our suppliers have made their own suppliers and bullion dealers aware of the campaign, and have received many letters from our suppliers giving examples of the positive actions they have taken as a result of us contacting them
For more information on the No Dirty Gold campaign, visit www.nodirtygold.org.
The Kimberley Process
Conflict diamonds are responsible for fuelling war and atrocities within certain areas of Africa. As a company, we care passionately about people and totally abhor any abuse of people and human rights.
The Kimberley Process began in 2000, when South African diamond-producing states met in Kimberley, South Africa, to discuss ways to stop the trade in conflict diamonds and ensure diamond purchases were not funding rebel movements, violence and helping allies to undermine legitimate governments.
The United Nations General Assembly approved the resolution which supported the international certification scheme for rough diamonds in December 2000. The creation of the Kimberley Process was reached after negotiations in November 2002 between governments, the international diamond industry and civil society organisations.
The Kimberley Process was officially launched in 2003 in the participating countries and sets out the requirements for controlling rough diamond production and trade.
Every supplier of diamonds or diamond jewellery to Beaverbrooks has given a written assurance that the diamonds invoiced to us have been purchased from legitimate sources not involved in funding conflict and are in compliance with United Nations resolutions
Our suppliers guarantee that the diamonds supplied are conflict free, based on their personal knowledge and/or written guarantees provided by their supplier of those diamonds
For more information on the Kimberley Process, visit www.kimberleyprocess.com.
WEEE Regulations
WASTE ELECTRICAL AND ELECTRONIC EQUIPMENT REGULATIONS 2006 (THE WEEE REGULATIONS)
Our Statement
We are a distributor of business to consumer (B2C) electrical and electronic equipment (EEE). As a responsible company, we're committed to providing high quality products and services to our customers and reducing our environmental impact by recycling our products in an environmentally sound manner when they become waste electrical and electronic equipment (WEEE).
READ MORE
Recycling
We are committed and passionate about reducing the amount of resources we consume and pollution we create. We encourage all our customers and suppliers to help with this by recycling their packaging waste.
For more information on how you can recycle, visit www.toddpak.co.uk/recycling-information.