Oris Brand Focus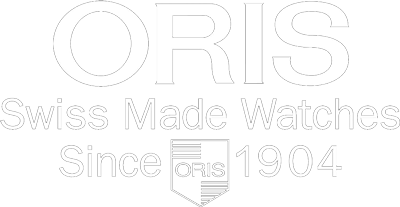 Swiss Made Since 1904
With a rich heritage of over 100 years, Oris is one of the few Swiss watch brands to still be independent and family run. Founded in 1904 in the village of Hölstein, Switzerland, Oris create their purely mechanical watches from the very same place today.
---
Mechanical Masterpieces
Not a single battery in sight, Oris is world-renowned for their commitment to producing entirely mechanical masterpieces with the attention to detail and quality you would expect from a Swiss Made brand. Instantly recognisable by their eye-catching red rotor of the self-winding movements, visible through the glass back of each watch, this symbol is a true sign of the natural power that fuels an Oris timepiece.
"Each watch is beautifully crafted by a skilled Swiss craftsman to ensure they meet the required standard of perfection."
Oris - The Collections
Renowned for excellent design and reliability through all challenges, Oris' partnerships with the world's greatest divers, pilots, musicians and Formula 1 drivers have inspired several ingenious watch collections such as the Diving collection with impressive water resistance, the extremely durable Aviation collection and the powerful Motor Sport range.

Aviation Collection
Since the 1940s, Oris has created a long line of distinguished pilots' watches. Encompassing renowned teams and individuals, the Oris world of aviation includes the Swiss Hunter Team – a group of former Swiss Air Force pilots flying legendary aircraft who are also involved in the design and testing of ranges such as the Oris Big Crown.
Shop Oris Aviation
Objects Of Desire
Diving Back In Time
Oris has dived back in time to revive the iconic diver's watch that first appeared 50 years ago. Sharing the retro looks of the 1960s original, the new Oris Divers Sixty-Five has been modernised using cutting-edge watchmaking techniques. With a case made of anti-corrosive stainless steel and the vintage-inspired bubble-curved glass made of scratch-resistant sapphire crystal, it also comes with anti-reflective coating on the inside to reduce glare and increase legibility underwater.
Oris Divers Sixty-Five
Heritage Automatic Men's Watch
£1,150
SHOP NOW
What Lies Beneath
Bridging the gap between classic and contemporary watchmaking, this striking watch combines a skeletonised movement with the best of 21st century watch design and finishing techniques. Boasting different shades of black and grey on the skeletonised parts of the movement, the finish is an intriguing three-dimensional one.
Oris Artix Skeleton
Automatic Men's Watch
£1,900
SHOP NOW
Why Own An Oris?
We don't think you need much persuading, but here are five reasons to own an Oris watch.
1. Mechanical Minds
Oris is one of a small handful of Swiss watch brands that makes only mechanical watches. A mechanical watch is a thing of beauty, designed according to principles that have been around for generations and will continue long into the future.
---
2. Since 1904
Their long history and heritage speaks volumes. They've been manufacturing mechanical watches in the Swiss village of Hölstein without interruption.
---
3. The Importance Of Being Swiss
The Swiss Made brand is protected by law and serves as a guarantee of quality. All Oris watches are Swiss Made by Swiss craftsmen and have passed rigorous quality control tests before they leave the workshops.
---
4. Innovative And Genuine
The Red Rotor is a trademarked symbol of Oris's "High-Mech" approach to watchmaking. Whenever you see the Red Rotor, you can be sure its inside a genuine, fairly priced Oris watch that's innovative, functional and designed to bring many years of pleasure.
---
5. Independent Spirit
Oris is one of the few Swiss watch brands to remain independent and run by its owners, meaning their values are in safe hands.