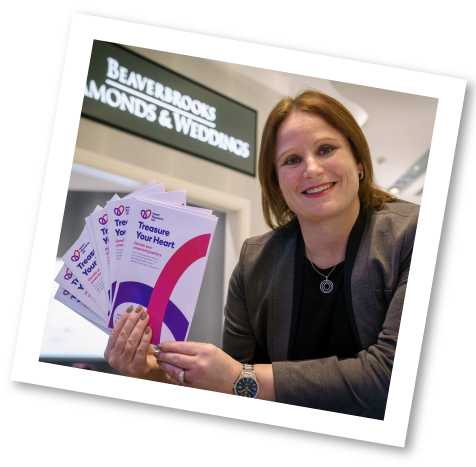 Donate your
unwanted jewellery

and help support Heart Research UK
Here at Beaverbrooks, our purpose is to enrich lives, which simply means making a positive difference to the world we live in.
We've partnered up with Heart Research UK to help raise funds for their pioneering medical heart research, training and education.
All you need to do is donate your unwanted jewellery pieces! All jewellery donations will be collected and sold at auction, so you'll be helping to raise money for Heart Research UK and the important work they do.

We've supported this initiative since 1997 and helped raise almost half a million pounds so far!

Drop-off your Treasure at
any Beaverbrooks store
Simply head into any of our Beaverbrooks stores nationwide with your unwanted jewellery. Each store will have Heart Research UK envelopes for you to put your jewellery in.
Find your nearest Beaverbrooks store

Send your Treasure directly
to Heart Research UK
If you can't drop your envelope full of recycled or unwanted jewellery at a Beaverbrooks store, don't worry. You can pop it in a larger protected envelope and post it directly to Heart Research UK. Below is the Freepost address:
Freepost RLYL-AGUE-SSBZ, Heart Research UK, Suite 12D, Joseph's Well, Hanover Walk, LEEDS, LS3 1Ab.
Why donate?
Around 1 in 4 people die from cardiovascular disease in the UK. Coronary heart disease is one of the single biggest killers and kills more than twice as many women as breast cancer in the UK every year.
When you donate, you are helping reduce the number of people developing and dying from heart disease, while improving and extending the lives of those affected.
So, thank you for donating and helping us take on heart disease!
Feeling inspired?
Set up your own Treasure your Heart collection point and get your workplace or community group involved in recycling unwanted or broken jewellery for charity. Simply get in touch with Heart Research UK to let them know how many envelopes and posters you need. Alternatively, you can collect using your own envelopes or boxes.