Omega Brand Focus


Omega has been redefining watchmaking since 1848 with their pioneering spirit and extraordinary achievements. Today, they enjoy recognition and admiration all over the world as one of the greatest watch brands. 2017 also marks a very special anniversary for Omega, as it's 60 years since the birth of the much-loved Speedmaster.
We're celebrating this special Speedmaster anniversary with some iconic and new timepieces, as well as delving into their rich history, exploring their revolutionary world and discovering why you should choose an Omega watch.
OMEGA SPEEDMASTER 60th ANNIVERSARY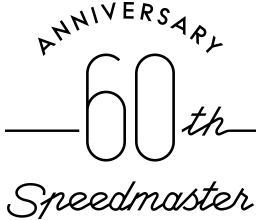 60th Anniversary Of The Omega Speedmaster
Celebrating its 60th anniversary this year, the Speedmaster is without a doubt one of Omega's most loved collections. It was the first watch to ever walk on the moon on the 21st July, 1969.
1957 Trilogy

The Omega 1957 Trilogy Limited Editions

In 1957, Omega released three professional timepieces that would all go on to become absolute classics. The Seamaster 300, the Railmaster and the Speedmaster.

Launched at Baselworld, Omega are paying tribute to these three mechanical masterpieces by releasing 60th Anniversary editions of each model.

The Seamaster 300 60th Anniversary Limited Edition

Based on the CK2913, this new Seamaster 300 features a black aluminium bezel and retains the famous Naiad sign on the crown. Back in '57, this was the mark of exceptional water resistance. Powering the 2017 model is the Master Chronometer 8806.

COMING SOON

The Railmaster 60th Anniversary Limited Edition

The 1957 Railmaster was designed for those working close to electrical fields; and though the new model retains the original's unpretentious style, its Master Chronometer 8806 movement takes antimagnetic to a whole new level, resisting fields of 15,000 gauss.

COMING SOON

The Speedmaster 60th Anniversary Limited Edition

Not only the first Speedmaster watch, the "Broad Arrow" was also the first chronograph wristwatch in the world with its tachymeter scale on the bezel rather than on the dial. This 2017 Speedmaster is the perfect match to the original '57 tachymeter.

COMING SOON

Moonwatch

The Omega Speedmaster
Moonwatch Professional

One of our most loved Omega watches, this Omega Speedmaster Moonwatch Professional Chronograph is among the most iconic and legendary timepieces in the world.

On the 1st March 1965, Omega's Speedmaster chronograph was flight qualified by NASA for all manned space missions. On the 21st July 1969, the Speedmaster was the first watch to ever walk on the moon.

This Moonwatch Professional still boasts the Omega mechanical calibre 1861, which is the very same manual-winding movement that was worn on the moon.

This timepiece is the perfect way to celebrate Speedmaster's 60th anniversary.

Shop Omega Speedmaster Moonwatch Professional

Apollo 45

Omega Apollo 45 Limited Edition Seamaster x 6 – keep out for now
OMEGA HISTORY
Through The Years
Beginning in 1848, Omega's history is rich with remarkable achievements and accolades. Travel through the years with this Omega timeline.
---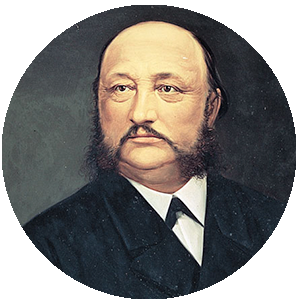 1848
Louis Brandt began assembling precision pocket watches with parts supplied by local craftsmen, deep in the Jura Mountains.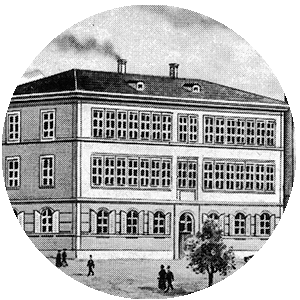 1881
Louis Brandt's son, Louis-Paul, moved the company to a small factory in Biel, which is still Omega's headquarters today, and got all the local craftsmen in one place to have full control over the manufacturing process.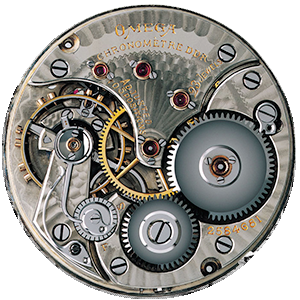 1894
The revolutionary "Omega" movement was created. Ground-breaking at the time, the high level of precision meant that it was highly accurate and easy to repair – making it the perfect movement to build lots of watches with.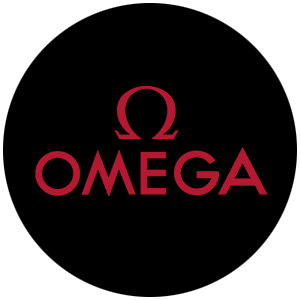 1903
The company renamed as the Omega Watch Company after the global success of this game-changing "Omega" movement. This creation, along with other major industry firsts like the first minute repeater wristwatch and first big date calendar, propelled Omega to the top of the industry.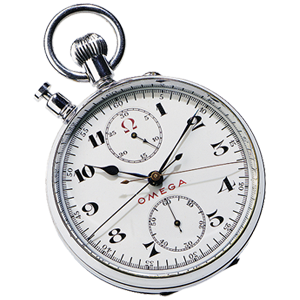 1932
After setting and breaking records in major watchmaking trials and competitions, Omega's unprecedented reputation for accuracy led to their appointment of Official Timekeeper of the 1932 Los Angeles Olympics. This was the first time in Olympic history that one brand had been given this responsibility.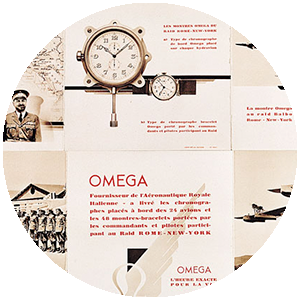 1936
A record that is still unbeaten today - a 47.7mm calibre that was adjusted by Alfred Jaccard sets the famous world precision record in all categories at Kew – Teddington observatory.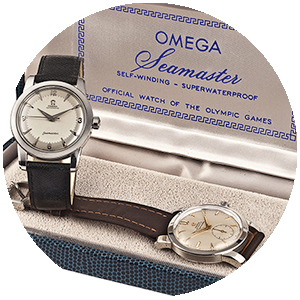 1948
A very special year. Omega celebrate their 100 year anniversary and launch their ocean-inspired Seamaster collection, designed with professional scuba divers in mind.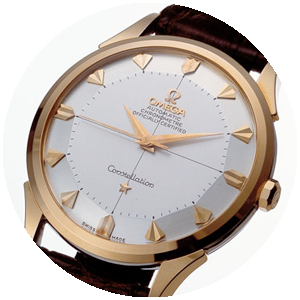 1952
The Constellation collection is launched with the Constellation chronometer watch. This watch was soon after known as 'The Swiss Watch' and continues to be an essential part of Omega's heritage today.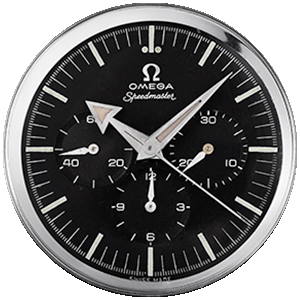 1957
Omega introduce a new legend to their watch family – the Speedmaster collection. This chronograph watch went on to fulfil its destiny and later became the 'Moonwatch', thanks to NASA.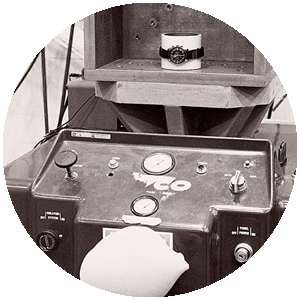 1965
The Omega Speedmaster was chosen by NASA as their official chronograph. They declared it flight-qualified for EVA (extra-vehicular activity) and for manned space missions.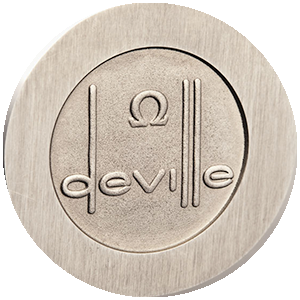 1967
Previously part of the Seamaster collection, a selection of watches drop the Seamaster title and are taken out to become their own important collection – The De Ville Collection.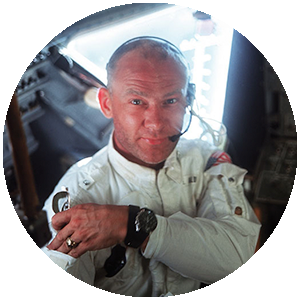 1969
On 21st July 1969, astronauts Neil Armstrong and Buzz Aldrin became the first men to step on the moon with the Omega Speedmaster Professional Chronograph watch. With this momentous achievement came a unique nickname; the Moon Watch.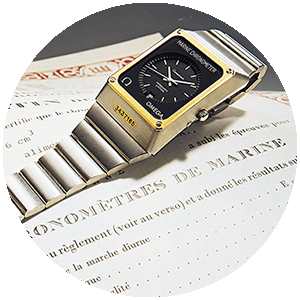 1974
Omega created the Marine Chronometer 2400, which was the most accurate and technologically advanced wristwatch in the world at the time.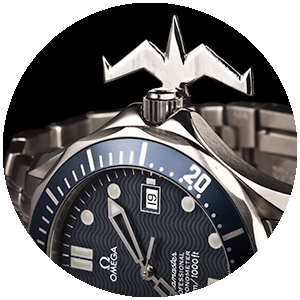 1995
Introducing another world first, Omega launched the first self-winding wristwatch with central tourbillon and automatic winding crown. Pierce Brosnan wore the Omega Seamaster Quartz Professional in the James Bond film Golden Eye, and Omega watches have since been James Bond's timepiece of choice in every film.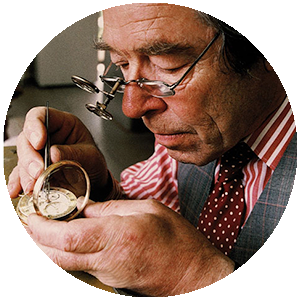 1999
Omega perfected their revolutionary Co-Axial Escapement movement, invented by Englishman master watch craftsman George Daniels. This movement eliminates friction and is considered one of the most important advances in modern watchmaking. Most Omega watches today include this Co-Axial Escapement mechanism.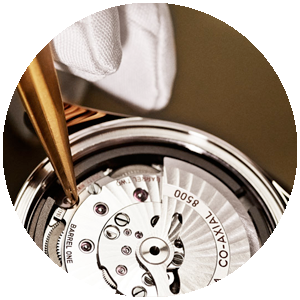 2015
Omega introduced its own "Master Chronometer" movement, which has passed tests approved by independent body METAS. To earn the name Master Chronometer, whose movement is COSC certified, the watch must pass tests approved by the Swiss Federal Institute of Metrology (METAS) that replicate real-life wearing conditions and demonstrate resistance to magnetic fields. By 2020 all watches will be at the Master Chronometer standard.
OMEGA COLLECTIONS
Omega Collections
OMEGA WORLD
The World Of Omega
From the far corners of space to unrivalled sports timekeeping and silver screen appearances, the world of Omega is full of extraordinary achievements.
WHY OMEGA
Why Choose An Omega Watch?
1 - Omega craft timepieces with traditional craftsmanship and state-of-the-industry materials. They innovatively blend ceramics, silicon and new alloys with precious metals to create answers to problems. For example, in 2008, Omega began putting silicon in all watches because it can't be magnetised.
2 - Omega watches are among the most precise in the world. They've set more precision records than anyone else.
Watch now
2 - Omega watches are among the most precise in the world. They've set more precision records than anyone else.
3 - The true definition of Swiss made. Every Omega watch is crafted in Switzerland.
4 - If it's good enough for James Bond… Ever since GoldenEye in 1995, the world's most famous secret agent has had one piece of equipment he can always rely on; an Omega Seamaster.
5 - Omega are the only brand to partake in an extra quality standard, going well beyond the COSC certification. The Master Chronometer certification, established by METAS (Federal Institute of Metrology) and Omega, proves levels of precision, performance and anti-magnetic resistance like never before.
OMEGA AFTERCARE
Looking After Your Omega Watch
Servicing Your Omega

Servicing Your Omega

Like any high precision instrument, a watch needs regular servicing to ensure that it functions perfectly. As a general rule, a watch should have a complete service every four to five years, depending on the conditions in which it is used. This includes completely stripping, cleaning and refurbishing all components and replacing parts where necessary. The components are then re-assembled, lubricated and then fully tested to ensure your watch is ready to go.

A watch's water resistance can't be permanently guaranteed. Things like the ageing of the gaskets or by accidental shocks could affect it. The water resistance of your Omega watch should be checked once a year by an authorised Omega service centre.

We have eight stores across the UK that stock Omega, including our very special Omega Boutique in the Trafford Centre. You can bring your Omega watch into any of these stores to arrange a service and get expert advice from our team.

FIND YOUR NEAREST OMEGA STOCKIST

Preserving Your Omega

Preserving Your Omega

Here's some aftercare tips to ensure that your Omega watch maintains its high standard of performance, reliability and appearance.

Avoid direct contact with chemical products like solvents, detergents, perfumes, cosmetic products etc., as they may damage the bracelet, the case or the gaskets.
To clean metal bracelets and water resistant cases, use a toothbrush with soapy tap water and a soft cloth for drying.
For leather straps, avoid water, perspiration, damp, grease, perfume, cosmetics or chemicals and avoid excessive exposure to the sun.
Unless your Omega is equipped with a Master Co-Axial Chronometer movement, resistant to magnetic fields greater than 1.5 tesla (15,000 gauss), Omega recommend that you avoid exposing it to powerful magnetic fields such as loudspeakers, refrigerators, certain handbag clasps, iPad cases etc.
Make sure your screw-in-crown is carefully screwed in to ensure no water enters the mechanism.
Although current Omega watches are shock-resistant up to 5000g, heavy shocks such as accidental knocks should be avoided.
After swimming in the sea, always rinse your watch with warm tap water afterwards.
Avoid extreme temperatures like above 60C or below 0C, or extreme temperature changes.