Swiss Watch Mechanisms And Movements
The beating heart of your watch, the movement is an intricate mechanism containing hundreds of moving parts which work together to keep track of time. Each watch movement, or calibre, will have its own characteristic whilst, undoubtedly, the most special calibres are those made in-house by the brands, the so-called 'manufacture movements'.
Highly engineered and drawing on generations of handed-down Swiss watchmaking know-how, these in-house developments have resulted in calibres such as TAG Heuer's 1887 movement and Zenith's El Primero which have changed the face of watchmaking itself.
There are three main types of watch movement, and each may also have further features (or complications) such as chronograph functions, day/date or moon phase displays.
Mechanical

Mechanical Watch Movement: How does it work?

A movement steeped in history, the mechanical movement was once the mainstay of the Swiss watchmaking industry. Beautifully engineered, the mechanical watch is powered by a mainspring which slowly uncoils, transferring its energy to the gears and cogs which keep track of time. Once the spring is fully un-wound it will stop, which is why you must wind a mechanical watch regularly by hand to keep it ticking.

Shop Mechanical Watches

Automatic

How do automatic watches work?

A mechanical movement which incorporates a self-winding design, an automatic Swiss watch movement is wound by the movement of your wrist.

First invented in the 1770's but brought into the mainstream when British watchmaker John Harwood took out a patent for his self-winding wrist watch invention in 1923, the development of automatic wristwatches was taken over by Swiss watch companies such as Rolex when the economic depression of the '20's and '30's saw the collapse of Harwood's company.

Shop Automatic Watches

Quartz

What is a quartz movement?

Capable of keeping time to within a few seconds a month, a quartz watch movement is extremely precise. But how exactly does a quartz watch work? Powered by a battery which passes an electrical current to a quartz crystal causing it to vibrate, the vibrations in turn power a motor which moves the watch hands.

Almost responsible for the destruction of mechanical watchmaking in the 1970's, Swiss watch manufacturers have since embraced quartz technology – some exclusively and other in conjunction with their more traditional mechanical movements. For example, Breitling have a developed a SuperQuartz movement for their Avenger collection which is 10 times more accurate than a standard Swiss quartz movement.

Shop Quartz Watches
Swiss Movement Innovations
The Quest For High Precision
All Swiss-made movements must meet extremely high levels of precision before they make it onto your wrist. However, with Swiss watch brands continuously striving for advancements in precision, around 6% of all the movements produced in Switzerland each year achieve the coveted status of Certified Chronometer.
Founded in 1973 and building on the heritage of independent horological laboratories founded in the late 19th century, chronometer status is granted by the Controle Officiel Suisse des Chronometres (COSC), a Swiss non-profit organisation.
Tested against exacting criteria over 15 days, in five positions and in three different temperatures, a movement that achieves the coveted status of chronometer must not only be made from the highest quality components, but must demonstrate fine Swiss watchmaking skill.
Master Chronometer Certified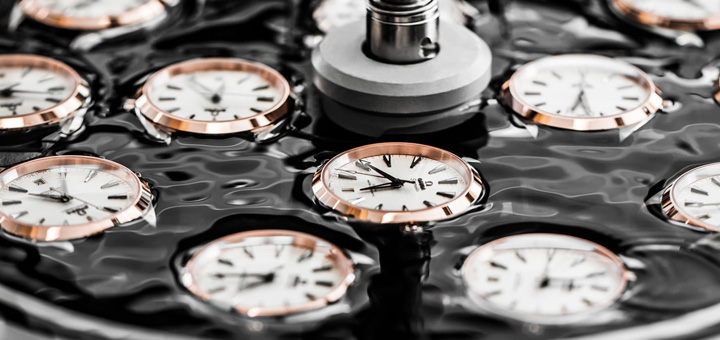 Despite the highest quality assured by the COSC certification, some Swiss watch brands go even further in their quest to demonstrate the quality of their watchmaking. For example, Omega have recently achieved another industry-defining breakthrough: the Master Chronometer certification.
A certification applied to the completed timepiece rather than just the movement, the watch (whose movement is COSC certified) must pass tests approved by the Swiss Federal Institute of Metrology (METAS) to become a Master Chronometer. Replicating conditions the watch would experience on your wrist, it must demonstrate resistance to water and magnetic fields far beyond the standards that have long been the norm in the Swiss watch industry.