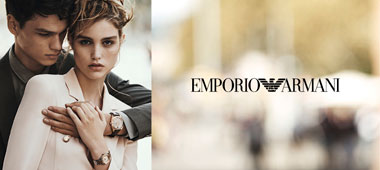 Infused with an understated air of confidence, the Emporio Armani collection is synonymous with luxury, style and sleek sophistication. Continuously reworking the innate casual style and effortless elegance of the brand with a lively and carefree attitude, Emporio Armani watches and jewellery will ensure you stand out from the crowd for years to come.
emporio armani
Men's Watches
Dress for the occasion with these superiorly stylish men's watches. Designed with a youthful fashion spirit to create a contemporary look, toughen up your aesthetic with a distinctive urban attitude.
Ladies Watches
Effortlessly flaunt your sophistication whilst exuding a modern flair with these timepieces. Casually chic and elegantly glamorous, enhance your day and evening ensembles with striking style.
Finishing Touches
Take your look to the next level with Emporio Armani jewellery. Bold, sophisticated and instantly recognisable, these finishing touches will let you show off your fashion-forward sense of style.
Our favourites
So right they can't possibly be wrong, here's our favourites from the Emporio Armani Collection.
Shop now