Interview process - What we look for...
As a family business, we've been selling jewellery and watches for 100 years. Over that time we've found that people who do really well with Beaverbrooks tend to have particular qualities and strengths in certain areas. We want you to show us you've got what it takes, so this is what we're looking for:
Culture and Vision
Someone who can demonstrate integrity and positivity for our vision. Who can live our mission to enrich people's lives, and has a passion for jewellery and watches. We have a pioneering culture at Beaverbrooks, and we look for people who can embrace change, and look for new and different ways to do what we do better.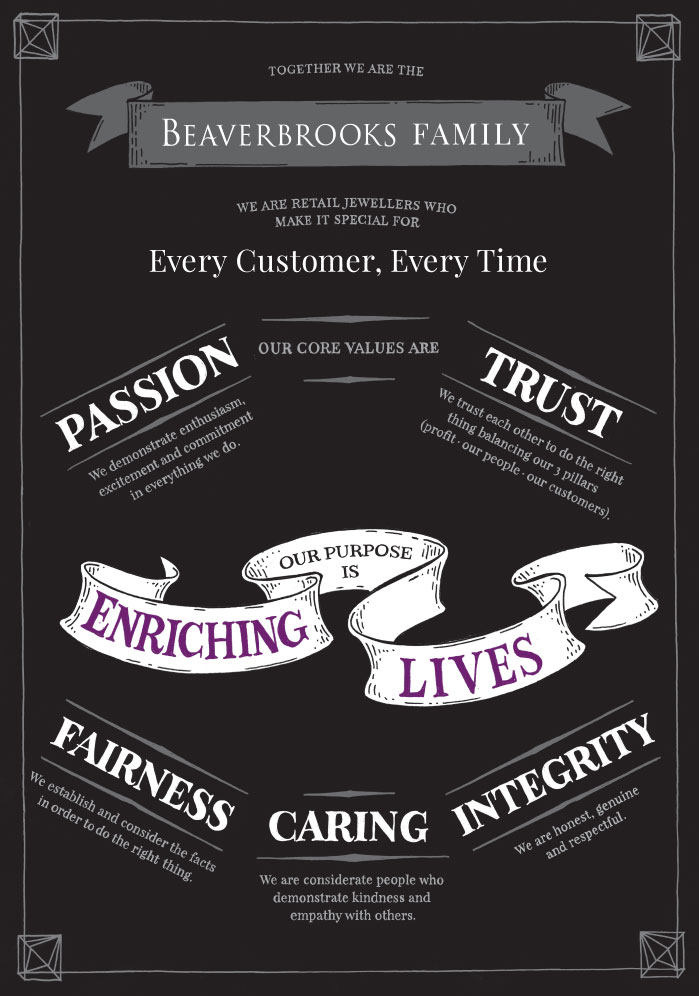 Download the pdf
Teamwork
We are a family business, and we achieve our goals though teamwork and by treating people right. We look for people who will support each other to improve and develop. People who will be a positive influence, and who will both give and receive feedback that is open, honest and constructive.
Customers Come First
You'll have a proven track record of exceeding customer's expectations and going the extra mile. We want for people who consistently deliver outstanding results, who understand customer's needs and build genuine relationships.
Drive and Resilience
It's about positive change and being tenacious and determined in the face of obstacles and resistance. It's about setting high expectations for yourself and your team-mates, and ultimately exceeding them. We want to constantly improve what we do, and so will you.
Communication
We want people who can build rapport with customers, who can communicate clearly and confidently and listen to what is required. We want a professional, happy team with integrity and a passion for our products, who can articulate new ideas and will listen to different viewpoints.
The interviews – what to expect
If your application is successful, we will then invite you along to meet with us. Here is an idea of what you can expect at each stage:
3 rounds of interviews

Round 1
At the first stage, you will meet the person who will be your line manager. This will either be a 1-2-1 chat or a group interview. We'll want to find out more about you, who you are and why you want to work for Beaverbrooks. This is your chance to demonstrate why you're great, and why you'd be a perfect fit for the team.

Round 2
At the second stage, you'll meet with one of our Recruitment and Training Managers. They'll want to hear all about your relevant experience, and whether you have the skills to excel in the role you're applying for. It's a good idea to read through the job description and have an idea of examples you can give that will support each requirement, and will demonstrate your skills and experience.

Round 3
The final stage is an on-the-job experience. Here you'll spend a couple of hours with us in the store. It's a great way for us to see how well you interact with customers and the team. Don't forget that the interview is a TWO way process. This is your chance to see what it's like to work for us, and will give you a chance to meet some more of your potential colleagues.
Top Tips
Our dress code is smart. Your appearance not only shows that you're taking the opportunity seriously but also that you are eager to make a good impression.
Clear, concise answers are always best.
Know WHY you want to work for us, and know a little about our business.
Good preparation is the key to success. It will also calm your nerves.
Prepare a few questions, and not just questions that you think we want to hear. Don't forget that it's a two way process.
We're just normal people who have been to lots of interviews too. Don't get stressed, we won't bite!
For us, interviewing is about letting you show us your best side. We won't ask you trick questions, or try to trip you up.
Arrive on time or five minutes early. Don't be late!
Jot down our address so you don't get lost, and have our contact number handy in case you do.
Remember who to ask for when you arrive.
Relax, take a deep breath and just be yourself.
View all Current Vacancies