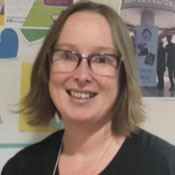 Angela Tolley PJ Dip
Sales Consultant
I have always felt extremely lucky that I love my job and enjoy coming into work every day. Working within the Beaverbrooks environment gets me involved in many different areas of retail, but the most enjoyable part for me is being involved in the most special times in our customer's lives - by finding the perfect product and really getting to know them.
My career with Beaverbrooks started in Reading in 2004 and that's where I still am today. Always supporting their employees to do the best they can, Beaverbrooks offer additional training events to help people further their career. I have been involved in many of these over the years, including TAG Heuer training, Michael Kors Summit, and JET 1 and JET 2 to name but a few.
Beaverbrooks really care about me as a person and are happy to support me in whichever career path I choose to take, whether it be as a really great sales consultant or whether it be working through the management training programme to take my career further. As I write this, I look forward to what the my future at Beaverbrooks will bring!