Breitling Brand Focus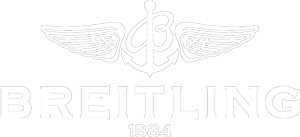 Through The Years
The Breitling story begins in 1884. Travel through time and discover how the brand came to be one of the world's best.
1884
Léon Breitling opens his workshop in the Swiss Jura Mountains, specialising in making chronographs and precision counters for scientific and industrial purposes.
1892
The workshop relocates to La Chaux-de-Fonds, the centre of Swiss watchmaking, because of the company's significant growth.
1915
During a time when pilots were looking for highly precise instruments, Breitling creates the first wristwatch chronograph in the world - with an independent pushpiece. It's given to pilots as their first wrist instruments, kick-starting Breitling's passion for the world of aviation.
1923
Breitling perfects the independent chronograph pushpiece, by separating the stop/start functions from that of resetting. This makes it possible to add several successive times without returning the hands to zero – very useful for sports timekeeping and calculating flight times.
1931
Breitling equips RAF fighter planes during WWII, with onboard aircraft chronographs.
1934
The company develops the second return-to-zero pushpiece, a decisive breakthrough soon adopted by other watch companies.
1936
Breitling becomes the official supplier to the Royal Air Force, marking the beginning of a longstanding relationship with international aviation.
1942
The Breitling Chronomat is launched, the first chronograph to be fitted with a circular slide rule.
1950
Breitling's on board chronographs become the standard equipment for commercial aviation, first on propeller-driven planes and later on the jet aircraft of many airline companies. This leads to the status of "official supplier to world aviation".
1952
The company launches the iconic Breitling Navitimer, a watch equipped with the famous "navigation computer" capable of handling all calculations called for a by a flight plan. A firm favourite among professional pilots, the Navitimer is the world's oldest mechanical chronograph still in production.
1962
The Breitling Navitimer Cosmonaute becomes the first wrist chronograph to travel in space, on the wrist of Scott Carpenter on his orbital flight aboard the Aurora 7 capsule.
1969
Breitling invents the selfwinding chronograph movement, a major breakthrough in the Swiss watch industry.
1984
The Breitling Chronomat as we know it, in its current styling, launches in 1984 and quickly becomes the most-loved line in the Breitling collection.
1995
Breitling creates the Emergency, a multifunction instrument watch with built-in dual frequency personal locator beacon.
1999
This year marks the "all-chronometer" challenge; where the brand sets itself the ambitious goal of submitting its entire product range to the Swiss Official Chronometer Testing Institute – a world's first among major watch brands.
2001
Breitling equips all its electronic models with SuperQuartz™ movements, ten times more accurate than standard quartz. Breitling's electronic movements are the only ones able to meet COSC requirements.
2002
The brand builds an ultra-modern facility named Breitling Chronométrie in La Chaux-de-Fonds, which is dedicated to the development and production of mechanical chronograph movements.
2003
The first Breitling for Bentley watch launches, celebrating the collaboration between Breitling and the luxury car brand.
2014
Breitling launches the B50 watch and movement, its own multi-function electronic chronograph with analogue and digital display, and a SuperQuartz™ movement designed to meet aviators' requirements.
2015
Breitling presents the B55 Connected, their first connected watch. Filled with a range of original functions tailor-made for pilots, this smartwatch is dedicated to serving the needs of aviation professionals.
Aviation

Aviation

"You simply don't become official supplier to world aviation by chance."

The Breitling brand is built upon its passion for aviation. Professional pilots and aviation pioneers needed reliable and precise instruments, and therefore soon took an interest in Breitling's pocket and wrist chronographs.

In the early 1930s, Breitling created onboard chronographs intended for aircraft cockpits, which ensured pilots enjoyed great success with the various armed forces, including the Royal Air Force which used them to equip its famous World War II propeller-driven fighter planes.

During the 1950s and 1960s, Breitling played a key role in the boom of commercial aviation, when their onboard chronographs became standard equipment – first on the propeller-driven planes and later on the jet planes of many aircraft manufacturers and airline companies. This earnt the brand the status of "official supplier to world aviation".

Distinguished by its signature function of the aviation-inspired circular slide rule bezel, the Navitimer was made for use inside a plane's cockpit. Read our review of the Breitling Navitimer 01 46mm Limited Edition watch, a larger-than-life take on the legendary timepiece.

Breitling For Bentley

Breitling For Bentley

A special partnership where the worlds of luxury, accomplishments and great craftsmanship merge.

A special partnership beginning in 2003, Breitling for Bentley watches boast a passion for performance and elegance which stems from the great art of British car making and the great Swiss tradition of watchmaking.

Symbolising an exclusive world where luxury and accomplishments merge, this collection of exclusive chronographs houses exceptional engines inside beautifully crafted bodywork.

In 2002, Bentley launched the most powerful Bentley ever built; the Continental GT. Breitling lent its precision touch by participating in the design of the technical instruments and creating the onboard clock. This was the very first time that Bentley had entrusted this task to a watchmaker.

Breitling For Bentley Supersports B55 Connected Titanium Men's Watch

Celebrating the launch of the Bentley Continental Supersports, this limited edition Breitling for Bentley Supersports B55 Connected titanium chronograph watch features a new connective philosophy; in which the smartphone is dedicated to serving the watch so you can easily control the many features from your phone.

SHOP NOW

Masters Of Performance

Masters Of Performance

Breitling are the world's only major watch brand to submit all its movements to the rigorous tests of the Swiss Official Chronometer Testing Institute (COSC).

Every single Breitling watch achieves the highest benchmark of precision and reliability. They are the world's only major watch brand to submit all movements to COSC, to ensure all movements become COSC certified.

Breitling also belong to the highly exclusive circle of watch manufacturers creating their own mechanical chronograph movements in-house. To ensure complete mastery of the quality of its mechanical movements, Breitling built an ultramodern factory on the outskirts of La Chaux-de-Fonds, named Breitling Chronométrie.

Breitling's SuperQuartz™ movements are ten times more accurate than the standard quartz equivalents.
What Is An Officially Certified Chronometer?
A certified chronometer is a high-precision chronometer watch, which has been tested and certified by an official neutral body; COSC, the Contrôle Officiel Suisse des Chronomètres or the Official Swiss Chronometer Testing Institute.
Breitling are the only brand in the world to submit all of their movements to COSC. To pass the rigorous testing, each movement is fitted with a white working dial and a black seconds hand. Precision is measured by a robot that reads the position of the seconds hand, and each individually numbered movement is tested during 15 consecutive days and nights, in five positions and at three different temperatures (23°C, 38°C and 8° C). The movement must meet seven criteria, including a mean daily variation of less than -4/+6 seconds.
Why Choose A Breitling Watch?
1 - Breitling are one of the world's leading Swiss watch brands. If you're looking for a true Swiss watch from one of the greats, Breitling is a definite contender.
2 - Breitling watches are so precise and reliable they have been the instruments of choice for professional pilots since the 1930s.
Watch now
2 - Breitling watches are so precise and reliable they have been the instruments of choice for professional pilots since the 1930s.
3 - A Breitling watch is the very best in reliability and precision. They are the world's only major watch brand to submit all movements to the rigorous testing of COSC, so you know you're getting the very best quality.
4 - You only need to glance over their many achievements to see how much of an excellent watch brand they are. Breitling invented the modern chronograph, were the first watch to travel in space, became official suppliers to pilots…. The list goes on!
5 - You don't need us to tell you that a Breitling watch is a real investment. It will be passed down the future generations, and will stay in your family for many years to come.
---
Looking After Your Breitling

Servicing Your Breitling

Breitling watches are highly sophisticated precision instruments that operate around the clock. Just like other high performance mechanics like cars or airplanes, they require careful and regular maintenance to ensure they keep meeting their high standards of performance and reliability.

Maintenance Service

Breitling recommend having a maintenance service on a mechanical or quartz watch every two years, which includes; cleaning the case and metal bracelet, changing all seals, checking water resistance, checking movement parameters and watch functions, and changing the battery for quartz watches.

Complete Service

Breitling recommend having a complete service on a mechanical or quartz watch every four to six years, which includes; refurbishment of the case and metal bracelet, changing all seals, partial changing of hands and checking of water resistance. It also includes full disassembly, cleaning and replacing where needed of standard movement parts, as well as changing the battery for quartz models.

Cleaning & Maintaining Your Breitling

Breitling Cleaning Tips

These top tips on how to care for your Breitling will help you prolong your watch's functionality and preserve its beauty.

Clean the case and strap regularly using a toothbrush and liquid soap. Rinse, then dry with a soft cloth. For watches with a leather strap, just scrub gently with a toothbrush (without wetting the strap).
A leather strap requires a little more care than a metal bracelet. Protect your leather strap from water, perspiration, damp, grease, cosmetics, perfume or chemicals and avoid excessive exposure to the sun.
Avoid exposing your watch to powerful magnetic fields, such as that of a magnet. Magnetic fields caused by household appliances and office equipment will have no significant influence on the watch mechanism.

If you are regularly partaking in aquatic activities or visiting humid or damp places, a metal or rubber strap could be a better choice.
After your Breitling watch has been immersed in chlorinated or salt water, carefully rinse your watch with warm tap water.
Breitling watches are made to stand up to intensive use. However, care must be taken to avoid dropping them or knocking hard objects.
Breitling watches are ideally designed to function in temperatures from 0° to 50°C. Your watch should not be left in extreme heat for any length of time or exposed to direct sunlight, or temperatures above 60°C and below 0°C.
We have eight stores across the UK that stock Breitling. You can bring your Breitling watch into any of these stores to arrange a service and get expert advice from our team.
You can also get your Breitling sized when you buy it, to ensure the perfect fit.
FIND YOUR NEAREST BREITLING STOCKIST